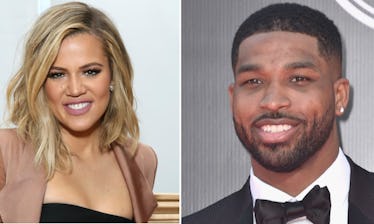 Tristan Thompson's Body Language In Khloe Kardashian's Pregnancy Pics Reveals So Much
CINDY ORD/ALBERTO E. RODRIGUEZ/GETTY IMAGES
The way that two people interact can speak volumes about a relationship, and Khloé Kardashian and Tristan Thompson's body language during her pregnancy reveals loads — which is especially useful when we're all clamoring for answers during Thompson's current alleged cheating scandal. Yesterday, a video surfaced of Thompson appearing to kiss a woman who isn't his girlfriend, and the Internet promptly freaked out. The video emerged as Kardashian's just about to give birth to their child, but was recorded in October 2017 (within the first few months of Kardashian's pregnancy). In the clip, Thompson can be seen canoodling with two women in a hookah lounge outside Washington, D.C. the night before he had a basketball game in the area, TMZ reports. The child Kardashian is carrying is her first and his second.
I spoke to body language experts Dr. Lillian Glass and Blanca Cobb to see if the couple's body language throughout the pregnancy indicated any trouble in the relationship. "She's usually the aggressor in the relationship, and he probably had enough of it," Glass tells Elite Daily. "She's always posed, and kind of phony. You can tell that there was tension on his part throughout the months."
Glass took issue with the staged quality of their Instagram shots. "Most [of their photos] are posed and not real, and that can affect their relationship," she continues. "They're constantly posing, constantly out there. This is foreign to him and difficult to him – you can see the tension in his body language."
Back during Halloween, which would have been soon after Tristan's alleged cheating occurred, the two snapped a picture in their coordinating costumes.
Glass says that this pose – with Khloé standing slightly in front – could indicate Kardashian's control in the relationship – as if she's saying, "I'm in front, don't forget it."
"When two people [in a couple] are not standing side by side, that's not a good sign," Glass says.
Cobb has a sunnier interpretation of the photo. "Tristan and Khloé's stances are mirror images of each other," Cobb tells Elite Daily. "Their left shoulders and legs are leading. Your body language synchronizes when you're emotionally connected with your partner."
A few days after Christmas, Kardashian and Thompson announed their pregnancy on Kardashian's Instagram account. The photo, posted Dec. 20, 2017, shows the two in a front-facing embrace, with both of their arms wrapped around Kardashian's pregnant stomach.
"You can see, it's contrived," Glass says. "Her hands are pulling his up – you can tell if someone's hands are willing to be there. Why aren't there any pictures of the full bodies of them? You don't see that connection – it's very posed, very contrived. You wonder what's behind that."
About the alleged cheating, Glass says, "This is his opportunity to kind of get out – it's been a long time coming. She smothers him."
Cobb thinks that Kardashian and Thompson both holding their hands over her belly shows what's most important to them — their child. She adds, "Notice that neither Tristan [nor] Khloé's faces are in the photo, a signal that their baby is more important than they are."
The couple rang in the new year with a kiss and holding Kardashian's emerging pregnancy bump. In classic Kardashian fashion, Khloé is still in full glam, rocking black pumps and a skin-tight LBD.
But Kardashian's pose with her NBA boyfriend here, posted on Jan. 2, could mean that there was trouble brewing beneath the surface.
"This kiss isn't much of a kiss," says Cobb. "When a kiss is intimate, then what I call the 'pleasure zones' (pelvic relgions) are close or touch. Even with Khloé being pregnant, they could still get a little closer together. They share a sweet, closed-lip kiss."
Glass agrees the photo is lacking in love. "Basically her hand is on his hand, so she's manipulating his hand, like she probably manipulates everything in his relationship," says Glass. The Kardashians' multi-million dollar brand is heavily curated through appearances, so this, of course, is understood when entering a relationship with one of them.
On March 11, Kardashian and Thompson celebrated their upcoming arrival with a baby shower. The couple shared a kiss, leaning into each other for a photo next to a neon pink sign reading "Baby Thompson."
"The fact that her hand is also on her stomach, she's guiding it," Glass says. Cobb agrees.
On the alleged cheating, Glass surmised that Thompson "figured, 'Hey this is not for me,' [so] he's still going to go to clubs and have a life because this isn't fun."
"The people that get involved with these Kardashians, the reason they don't last [is] the relationships are so manipulated and difficult to have in front of the public," Glass says. "You can't have a relationship like that, that are every minute, every day."