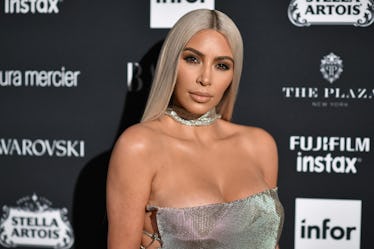 Kim Kardashian's Baby's Zodiac Sign Reveals A Sun & Rising Sign At Odds
Dimitrios Kambouris/Getty Images Entertainment/Getty Images
Kim Kardashian West and husband Kanye West's surrogate has given birth to baby number three, and of course, we have so many questions. I have no doubt that older siblings North and Saint will be amazing siblings (after all, sibling love is practically required to be a Kardashian, right?), but, even though the baby girl is just a day old, we're already wondering what role she'll play in the Kardashian West household. There are so many different factors that influence someone's personality, but perhaps one of the easiest ways to understand what makes someone tick is by interpreting their birth chart. So what is Kim Kardashian's baby's zodiac sign?
To say the least, this astrological makeup is full of mystery, and this baby might be more of a Kendall (think, quiet and private about her personal life) than like her mama (someone who was basically made for the limelight). Either way, Kim K confirmed the news on her website that she and Kanye have a healthy 7-pound 6-ounce baby girl, and she was born at 12:47 a.m. on January 15, 2018. Kardashian also added that "North and Saint are especially thrilled to welcome their baby sister."
No name for baby number three has been confirmed, but luckily, to figure out Baby West's astrological chart, we only need the date of birth, time of birth, and city of birth. Baby West was likely born in either San Diego (where the surrogate lives) or in Los Angeles at Cedars-Sinai, where North and Saint were born. Either way, both locations reveal a similar birth chart, and let me tell you, this is one unique combination.
Sun Sign: Capricorn
Ahhh, I'm so happy this baby is a Capricorn. Capricorns are definitely hard to figure out, and some might even call them the most overlooked sign of the zodiac. But fellow Caps, being "overlooked" in astrology speak really just means you are so golden, you don't need someone to truly break you down just to come to the same conclusion that you're golden.
Basically, Capricorns are known for being logical in all situations, organized, and generally keeping to themselves. They don't need to make a huge, flashy display for attention to be satisfied with who they are, and more importantly, to really know who they are. Interesting sign for someone who was just born into a family that is often called "famous for being famous."
But that's precisely the reason I'm happy this baby is a Cap. This Kardashian West baby will probably be more reserved than North who is a Gemini, or even Saint who is an adventurous Sagittarius. A Capricorn sibling will definitely add some balance to the family dynamic and also help her siblings stay more grounded when gossip-loving Gemini is spilling juicy drama or fire sign Sagittarius is running around with all their excess energy. Basically, when other signs are all drama, energy, and noise, a Capricorn will be there to provide the logistics of a situation, which will definitely be calming and encouraging to the group at hand.
Rising Sign: Scorpio
OK, here's where things get interesting. Capricorn is an Earth sign and Scorpio is a water sign. Scorpios are also known as one of the most mysterious signs in the zodiac. Since Cap is also known for some mystery of their own, Baby West is looking like she's going to be one elusive individual.
One Capricorn trait that works well with Scorpio is the natural inclination to protect those they care about. Seems like instead of creating some drama of her own, Baby West will be the one making sense of and dispersing the drama of those around her. A mini Kris Jenner, perhaps? Whereas Capricorns never feel like they owe anyone anything (from a juicy tabloid tell-all, or even revealing to family and friends some aspects of their personal lives), the Scorpio rising is bound to make this Cap a bit more suspicious and concerned with those around them. Scorpios can be very private but also paranoid, whereas Capricorns have no time to think of others' opinions of them. A Scorpio rising sign will definitely be in opposition to Baby West's natural and more logical Capricorn side. But the two signs together will definitely mix to make one individual the public won't be able to get enough of. There will be so many questions surrounding this young one as she grows up, and she's not going to feel the need to give details to just anyone, which will leave everyone wanting more.
Congrats to Kim and Kanye on baby number three! I wish the family well in shifting around to make some room for this special Capricorn, and can't wait to learn the name of the latest addition to the family.