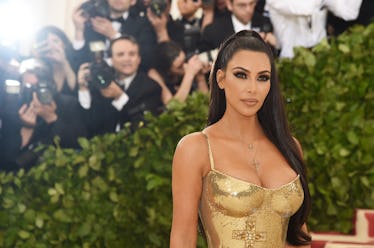 This Emotional 'KUWTK' Clip Shows Kim Opening Up About Her Visit To Paris After The Robbery
Jamie McCarthy/Getty Images Entertainment/Getty Images
Ahead of Sunday, Dec. 2's episode of Keeping Up with the Kardashians, the E! YouTube account shared a clip preview of the night's episode. In the video, Kim, Kourtney, and Khloé meet up at a Saved By the Bell-themed diner, but their topic of discussion went beyond that of Kelly Kapowski and Zack Morris. In fact, in the emotional KUWTK clip previewing the episode, Kim Kardashian talks about visiting Paris after her robbery that happened two years ago. So, grab your tissues and get ready for some serious feels.
First, a little context. In October 2016, Kim was held at gunpoint by two men in masks in her hotel room in Paris, France. The robbers stole a ring and a box of jewelry worth around $10 million dollars, including two Cartier bracelets, a gold and diamond Jacob necklace, Lorraine Schwartz diamond earrings, a gold Rolex, per People. They also took her purse, two cell phones, and 1,000 euros, according to Bustle. In a 2017 KUWTK episode, Kim described the event. She said at the time,
They asked for money. I said 'I don't have any money.' They dragged me out to the hallway on top of the stairs. That's when I saw the gun, like, clear as day. I was looking at the gun, looking down back at the stairs, and I was like 'I have a split second in my mind to make this quick decision. Like, am I going to run down the stairs and, like, be shot in the back?'
Kim finally went back to Paris in June 2018 to attend Virgil Abloh's debut collection for Louis Vuitton at the label's spring/summer 2019 menswear show. At the time, she tweeted on June 21,
Thank you Paris for the emotional trip back! I couldn't have come for a better reason....off to Teyana's listening party in LA now! 2 major experiences in 2 countries all in the same day!
In the preview clip from Sunday, when Khloé asked Kim about Paris, Kim responded with some good news, and she told her sisters that she was "so glad [she] went." Kim also revealed that she was anxious at first, saying that she was trying to be mindful of everyone's movements.
"For a second, I was so stressed out over my security, like just the movement of everyone. Other than that, it was fine. I didn't really have a lot of anxiety," she shared. But after a while, her anxiety melted away. While talking to the camera during the episode, Kim said,
I don't think I'll ever really forget my experiences in Paris, the good or the bad. And I think that's OK. It all has made me who I am and thinking about it, I feel like I could go back, and I could spend more time and feel safe and comfortable.
Check out the full preview:
Earlier this year, the middle Kardashian sister opened up about the robbery on The Alec Baldwin Show sharing that she's actually grateful for the Paris Robbery, according to Entertainment Tonight. She explained:
Even though it was horrific, and I wouldn't wish it upon anyone, it really did deeply change me to where now I feel like I can get back to myself, I can put on makeup and heal.
In the wake of the robbery in 2016, Kris Jenner revealed that the family stepped up all their security, per People. She mentioned that not only was physical security increased, but the family members had started to be more careful about geotagging social media posts and showing what they were doing or where they were doing it. Despite all the changes that took place for the Kardashian-Jenner clan after the robbery, I'm so glad Kim is feeling comfortable returning to the place it all happened, and finding peace with the events of that difficult day.