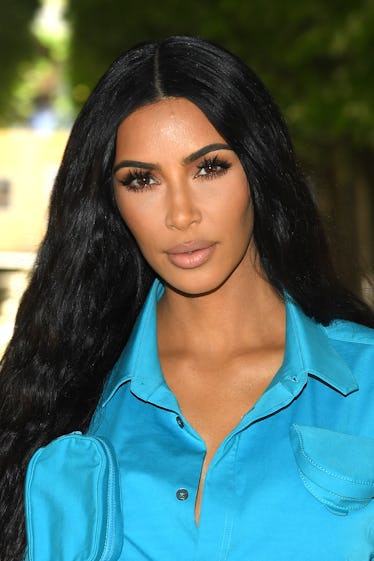 Kim K Took Her First Trip To Paris Since Her 2016 Robbery & Things Got So Emotional
Pascal Le Segretain/Getty Images Entertainment/Getty Images
It's been two years since Kim Kardashian's horrifying robbery in Paris, when a group of thieves broke into Kardashian's hotel room in October of 2016 and robbed the Keeping Up With The Kardashians star of an estimated $10 million in jewelry while holding her at gunpoint. She was visiting Paris for the Paris Fashion Week Spring 2017 shows, and within the two years, she hasn't returned to any of the fashion shows since. It's a harrowing story, to say the least, but Kardashian has bravely made her return to Paris Fashion Week once more in support of Virgil Abloh's debut collection for Louis Vuitton at the label's spring/summer 2019 menswear show. If you're as emotional about this whole story as I am, then I guarantee you that Kim Kardashian's tweet about her first trip to Paris since the robbery will make you feel a lot of things.
Joined by husband Kanye West and Kylie Jenner, Kardashian sat front row at Abloh's show, where sources told People that she "seemed in a good mood" and was "absolutely not" afraid. According to sources, West also was in good spirits, saying that he was in "an especially good mood and talking proud of his longtime friend Abloh."
In Kardashian's tweet about coming back to the city that left her with such a terrifying experience, she revealed that the trip back was "emotional" but was happy to be there supporting her friend. On Thursday, June 21, Kardashian wrote:
Thank you Paris for the emotional trip back! I couldn't have come for a better reason....off to Teyana's listening party in LA now! 2 major experiences in 2 countries all in the same day!
Honestly, it must take a lot of guts to head back to a place where such a tragic moment occurred in your life, so I give Kim K all the bravery points in the world for doing this.
Same, girl. Same.
And if you think that Kim K brought a hoard of security, think again. An event attendee told People that, although security was there, "it didn't seem exceptional or excessive," adding, "There were guards around her but not a huge contingent. It was almost normal but there was some tension you could feel."
Even Kanye West has recounted his feelings about his wife's robbery at gunpoint, telling Charlamagne tha God from iHeartRadio's The Breakfast Club about the super-scary details in May of 2018. He said:
The situation with my wife in Paris — and all of the elements, you're feeling like helpless, you're feeling like what else can you do ... One of the things that she said that she heard was that they were coming to rob her and they had to wait til' I had left. The people had been strategizing and scheming on that for a long time.
I know that Kanye can be a lot of things, but vulnerable isn't usually one of them, so it was incredibly refreshing to hear him speak so candidly about such a traumatizing event. Emotions were also running high for West upon his return to Paris, too, and in this video clip, you can see just how overwhelmed with feelings he was while hugging his friend, designer Virgil Abloh:
I'm not crying, you're crying. Fine, I'm crying too. I don't even care who knows it at this point.
The one thing that the robbery did teach Kardashian, though, was her perspective on life, and it spurred her to truly change the way she balanced her work and her family. A source told People back in March of 2017:
She very much likes her new normal. She knows that if the robbery never happened, these changes wouldn't have happened either. She is taking the horrific experience and focusing on the good aftermath. Before the robbery, Kim was often stressed out about her family/work balance. She many times felt that work overtook and she often missed her kids. This all changed after the robbery. Now, Kim very much enjoys being a mom first. Work comes second. She loves being at home with her kids and is much happier.
Even though it took absolutely horrendous circumstances, I'm glad that Kardashian has chosen to move forward in a positive way from such a tragic event and is giving her personal life the attention it truly deserves.