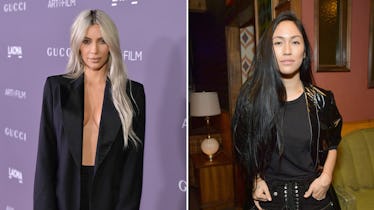 Kim K Just Made A Big Move To Show Where Her Relationship With Steph Shep Stands
Emma McIntyre & Neilson Barnard/Getty Images Entertainment/Getty Images
Another day, another Kardashian story. Fans have been swarming the internet waiting for the release of Kim Kardashian's latest fragrance, KKW Body, and it's finally here. After teasing the new perfume on her Instagram with nude pictures of her literal body, Kim finally released the latest addition to her fragrance family. As usual, celebrities have been Gramming the product and singing her praises. This list of famous folk includes her ex-assistant, Stephanie Shepherd. Kim Kardashian sent Steph Shep her KKW Body perfume, signaling to me and the rest of the world there are seriously no hard feelings between these two. Seriously.
The new scent dropped on Monday, April 30, but it looks like Shepherd got an advanced preview. On Sunday, April 29, she posted a series of unboxing videos on her Instagram story plus a few glam shots of the bottle itself. Once a Kim Kardashian assistant and Instagram photo expert, always a Kim Kardashian assistant and Instagram photo expert.
In Shepherd's photos, you can see her pull open the box, which unfolds to reveal a statuesque bottle shaped in the form of Kim's body. The bottle is standing on a little pedestal, much like a statue in a real museum.
The KKW fragrance website describes the scent like this:
A narcotic elixir that offers an opening of bright, energetic bergamot embracing a burst of juicy peach nectar. In the heart, the rich lusciousness of jasmine sambac meets the fresh beauty of rose. Ylang Ylang from Moheli lends texture and depth to the body that eventually dries to a rich and luxurious base of skin woods and musk that keeps the narcotic effect alive for hours on your skin.
Alright. You have my attention.
Steph Shep's caption says it's her "fave fragrance you've ever done Kimberly."
Shep's Instagram pictures clearly illustrate how well she knows the Kim Kardashian West brand. Even though her photos weren't of Kim herself, Shep still obviously took great care to make sure the color-scheme and vibe were all "on brand."
And actually, Kim agreed. Shep posted one particular glam shot of the bottle, causing Kim to comment, "OMG such a good pic!!"
Fans are excited by this interaction considering Steph Shep was part of Kim's ride-or-die crew for so long. When they made the decision to part professional ways, it was unclear if someone somewhere burned a bridge.
Back in November of 2017, a source told People magazine their friendship was essentially over. A source claimed,
Kim made a decision to let Stephanie go. She was a good assistant but when Stephanie wanted to transition into a larger role with Kim's brand and businesses, it just didn't work. Kim gave her the chance but after a short period of time it became clear that Stephanie just didn't have the knowledge to take on a role like that. Kim made an executive decision to part ways.
Then, when Kim released her Valentine's Day fragrances, fans perked up to see she and Shep actually were still on good terms. In fact, they seemed as close as ever.
Kim released three scents for the holiday called "Bae," "Ride Or Die," and "BFF." Sheph grammed her perfume gift from Kim then, too, showing she received a "Ride Or Die" press box.
Look, if it isn't clear to everyone at this point that these two are just peachy (no emoji puns intended) then I can't help you.
True friends send friends free perfume bottles in the shape of their naked bodies, OK?!
Check out the entire Gen Why series and other videos on Facebook and the Bustle app across Apple TV, Roku, and Amazon Fire TV.