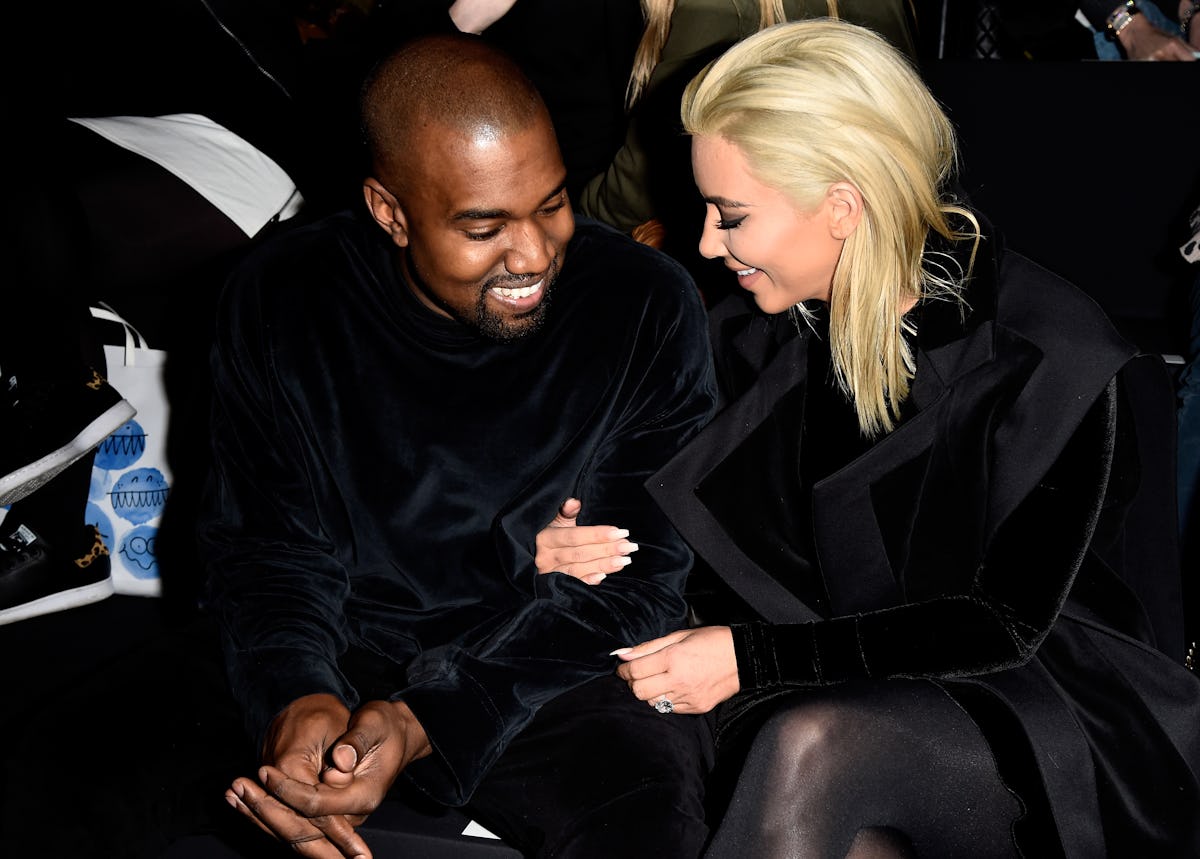 Kim Kardashian & Kanye West Looked Great On Their First Date As Parents Of 3
Pascal Le Segretain/Getty Images Entertainment/Getty Images
Kim Kardashian and Kanye West never let us down with their fashion choices. From the Met Galas to the VMAs to casual date-nights, the parents-of-three always look stunning and unfathomably stylish. On Jan. 21, pictures of Kim Kardashian and Kanye West's first date night since they welcomed their newborn daughter surfaced online and, as usual, they look breathtakingly amazing.
On Jan. 20, the pair went out for a movie screening at Kanye's office in Calabasas, California, according to E! News. The rapper was holding a private screening for Damon Dash's new film, Honor Up, which was also executive produced by the "Ultralight Beam" artist.
A photo snapped of the two showed how stellar they looked: Kim sported a pair of wide-legged snakeskin pants, a matching pair of pointed-toe heels, a small black purse and a long-sleeved neon top from Kanye's clothing line, accentuated by her chest-length platinum blond locks. The outfit choice is totally different from her usual dark-colored ensembles, but she looked stunning, nonetheless.
Meanwhile, Kanye kept it casual, wearing a dark grey shirt, covered by a black, bomber-style jacket paired with black pants and a pair of dark-colored sneakers. He topped off his look by wearing a few small gold chains around his neck. Classic 'Ye, right?
It's their first "mom and dad only" night since they became parents of three.
The date comes just days after they welcomed their newborn daughter, Chicago West, into the world via surrogate. The two celebrated their daughter on social media, with Kim posting a photo of her captioned, "#momofthree."
Kim announced the news on her app on Jan. 16, writing,
Kanye and I are happy to announce the arrival of our healthy, beautiful baby girl. We are incredibly grateful to our surrogate who made our dreams come true with the greatest gift one could give and to our wonderful doctors and nurses for their special care. North and Saint are especially thrilled to welcome their baby sister.
Said baby sister was born on Jan. 15, weighing 7 lbs., 6 oz. Kim also announced her daughter's name on her app, which is an ode to Kanye's hometown, and probably his late mother, Donda.
Kimye has been busy spending their time with their new addition.
A source told PEOPLE that the family has been enjoying being with baby Chicago and "soaking it all in," saying, "Kim is just so thrilled that her dream of having three kids finally came true. She's really enjoying these few days just being with the baby and her family and soaking it all in."
Though the couple has likely been dealing with the post-baby experience — y'know where they're up all night because their daughter is crying or when they have to get up to make bottles — you would never know it. They look completely refreshed and revitalized, especially Kim with the revamped, eccentric fashion choices she's worn recently.
Of course, it could just be the power of family time. Clearly, the couple enjoys it.
It's also pretty exciting to see the couple out and about — together, at least.
The KKW mogul often shares her life through her Instagram or Snapchat, but Kanye has been pretty MIA since his hospitalization in 2016. He deleted his social media accounts and has skipped out on public appearances like last year's Met Ball, Fashion Week or even family parties, so honestly, any time I get to see a shot of Mr. West, I smile inside.
When it comes to Kanye and his kids, he keeps his conversations minimal, but during a 2014 feature with Interview magazine, he shared a bit of his experiences and plans for fatherhood after welcoming his daughter, North. He said,
The teachings and the confidence that was instilled by my grandfather into my mother, and from my mother into me — which will now, of course, be instilled by me into North — will create the best winter coat against doubters and dream-killers ever made.
And with the family's fashion sense, I'm sure this was more than a figurative reference. Overall, we can't wait to see what stylish, new look they pull off next, baby Chicago included!