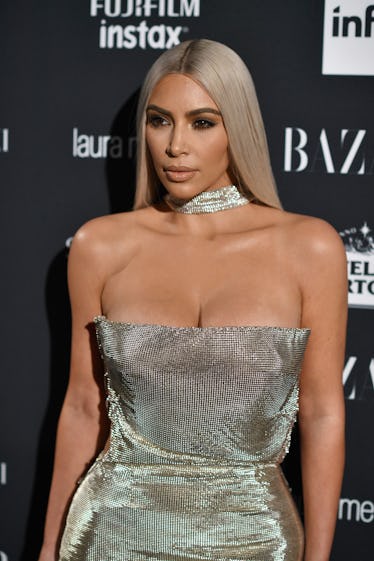 Kim Kardashian Has Hair & Makeup Rules In Her Living Will & It's Actually Life Goals
Dimitrios Kambouris/Getty Images Entertainment/Getty Images
It takes a lot for me to be surprised over anything a Kardashian sibling does. At this point, they could all unzip themselves and reveal to the world that they are aliens from another planet, and I really wouldn't second-guess it. But Kim K was featured in a video from Elle to help debunk some myths about headlines she's appeared in, and we learned that not all headlines are incorrect. Case in point: The confirmation that Kim Kardashian has hair and makeup rules in her living will, and now I am SCREAMING.
In her video interview, Kardashian dishes out the truth on some of the headlines that have recently appeared in the media. She confirmed that yep, Saint is a "genius" 2-year-old who can spell the word "gargantuan," and she let the world know that was actually the very first word he ever spelled. #ToddlerGoals right there.
But my favorite part of this video is when Kardashian reads a headline that says, "Fear Not, Kim Kardashian's Hair Will Always Be Done, Per Her Will." At first you're like LOL, gossip magazines. They'll write anything to get people to read their articles!
I thought that Kim was going to laugh at this headline. I really, really did.
NOPE.
Kardashian said, "Absolutely. I made a section that if I am so out of it that I can't even communicate and I'm, like, sh*tting on myself, I definitely need my hair, my nails, and my makeup done. I want to look as good as possible."
Girl. YAS.
She continued, saying that she would "re-write this headline to say, "Kim Kardashian's Hair, Makeup, And Nails Will Always Be Done Per Her Will."
Is this what it feels like to have your heart feel so full and complete that it might actually burst?
Because this is what I'm feeling right now, and I'm telling you fam, it's magical.
Aside from candidly answering questions about herself, she also gets asked about headlines pertaining to Kylie being her secret surrogate, Kanye West giving her fashion advice, and Kourtney "freeing the nipple" on a date with Justin Bieber, so yeah, you're going to want to watch this video.
You can watch the full interview below (which I highly endorse), but if you want to skip straight to the part where she talks about needing hair and makeup while basically on her deathbed, you can find that around minute 2:30:
Honestly, I feel as though I've struck gold watching this.
But let's be real: Would the queen of contour ever really allow herself to not look glam AF? It's obvious she values good makeup — her KKW Beauty contour kit literally sold out within hours, so it's clear the world appreciates whatever beauty product she puts out — and she also goes to great lengths to ensure her hair is always on point (she spent 13 hours in a chair when dying her hair blonde), so in reality, this revelatory living will beauty routine shouldn't actually be all that shocking to us.
Yet somehow, I'm still amazed that this idea was thought of, presented, and then included in her will. I find it all so morbidly wonderful.
If you feel that this is just too extra for your liking, hate to break it to you, but Kim K doesn't care. In an interview with Elle, she said that she no longer takes other people's opinions into account. She also reveals that it's difficult to have so much celeb status, and that it's something you "have to be born for":
At the beginning, I looked at people's opinions. Now I'm content in my life, and I don't care. The things that make me happy now are different. But I swear, you have to be born for this. It's not for everyone. I know I can handle it.
Kim, I'm just going to say it: You can do anything. Literally anything. And you'll have millions of fans absolutely loving it.
Cut your iconic hair? Still love you. Post topless selfies on Insta? Have at it. Have hair and makeup rules in your will? Go for it.
We love you all the same.