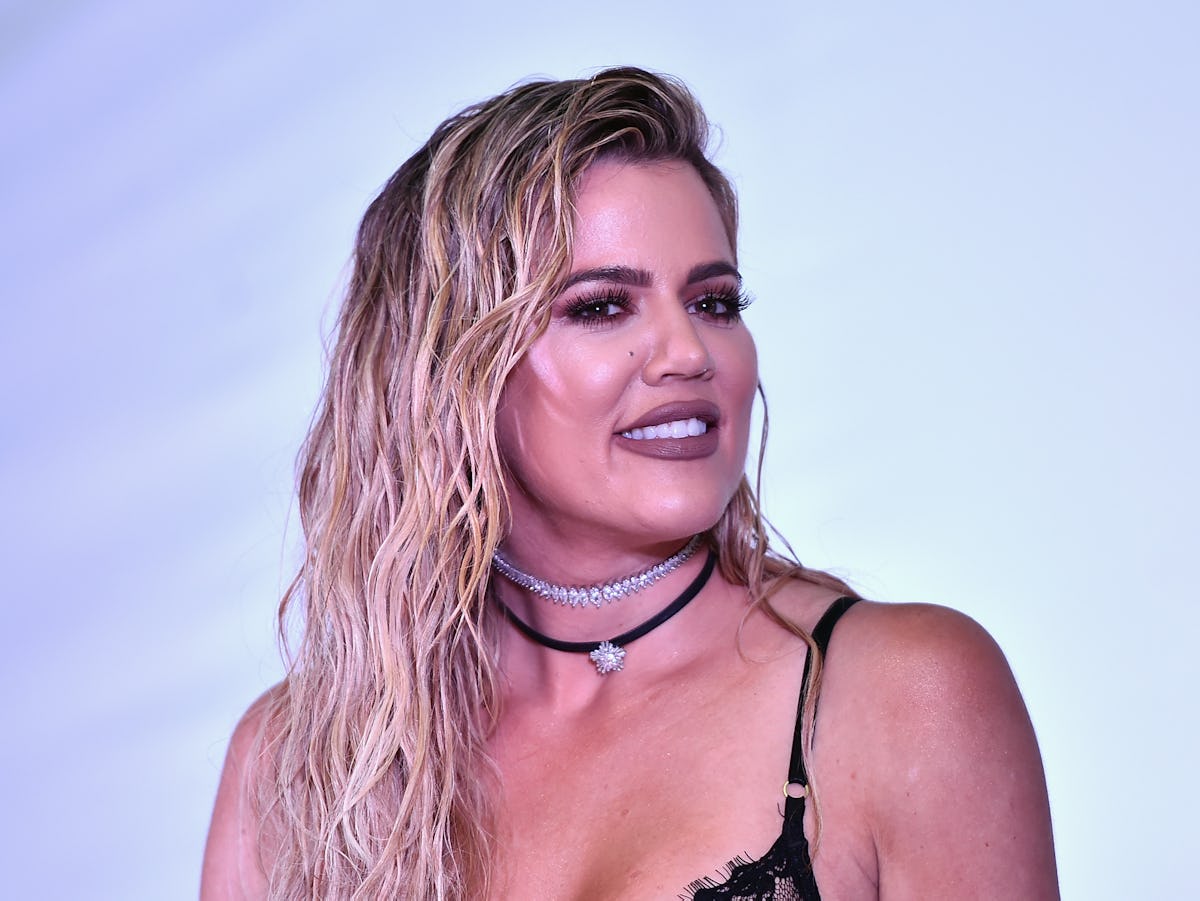 Khloé K Clapped Back At A Woman Who Said True's "Not Cute" & I'm Here For It
Alberto E. Rodriguez/Getty Images Entertainment/Getty Images
I've said it before and I'll say it again: Khloé Kardashian is the queen of clapbacks. From Twitter to Instagram, the reality star has often proven that she's not one to mess with. But Khloé Kardashian's response to someone insulting True is on a new level of epic-ness. Check it all out below.
It's almost always a guarantee that Kardashian will go off on anyone who criticizes her or her loved ones on social media, especially her baby girl, True Thompson. Apparently, one social media user didn't get that memo and made a really mean comment about the reality star's daughter on Friday, July 7. According to E! News, the Twitter user reportedly wrote, "Is it just me or is @khloekardashdian baby, True, not cute at all?"
Kardashian immediately went into Momma Bear-mode, firing back:
What self-respecting adult would even comment on a child's appearance? What type of disgusting human being are you? It's pathetic that you are this miserable in your life.
"She's a loser for that," the 34-year-old continued. "No respect for people like that. People are entitled to their own opinions and feelings but why on earth would you tweet that and if you must why would you tag me?"
Apparently, Kardashian's comments got to the woman, because she hastily deleted her tweet, made her profile private, and issued an apology to the Good American designer. According to People, the woman wrote:
[I] honestly didn't mean for my tweet to get as many replies and whatnot to it. I apologize for my actions and I shouldn't have said what I said. I wasn't thinking at all.
Since when did talking about an innocent baby not result in this kind of backlash? SMH. And also, can we talk about how ADORABLE True actually is??? Just look at her:
But, hey, at least she apologized... I guess.
This is, unfortunately, far from the first time Kardashian has had to call out her critics on social media, though. Back in May, she also spoke up against people who said she was focusing too much on her post-baby body.
In a post shared to Snapchat, the reality star said:
What I'm annoyed about is I've read a couple of times on Twitter that they feel that I'm focusing too much on my body, but the truth is, I've worked out five or six days a week before I got pregnant and that's my sanctuary and something I love to do. I want to start doing that now and get back to my rhythm and in between feedings I want to find time to work out because that's going to be my new normal.
Ugh, what ever happened to folks minding their own business?! I mean, some of y'all are really putting a damper on her experience with motherhood, which is incredibly saddening, given how excited she was about it in her pregnancy announcement. In the message, which she shared to Instagram on Dec. 20, 2017, Kardashian wrote:
My greatest dream realized! We are having a baby! ... I still at times can't believe that [me and Tristan's] love created life! ... I know we've been keeping this quite but we wanted to enjoy this between our family and close friends as long as we could privately. To enjoy our first precious moments just us Thank you all for understanding. I am so thankful, excited, nervous, eager, overjoyed and scared all in one! But it's the best bundle of feelings I've ever felt in my life!
Listen, everyone. Kardashian is a new mommy and she really doesn't need to deal with all this extra and unnecessary drama. Why don't you just give the criticism a rest before she claps back again, eh?