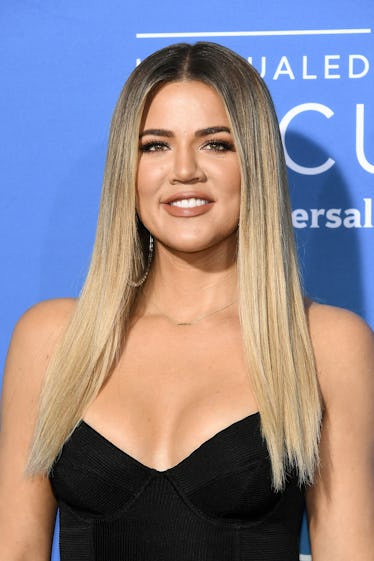 Khloé K Clapped Back At Trolls Who Said She's Focusing Too Much On Her Post-Baby Body
Dia Dipasupil/Getty Images Entertainment/Getty Images
Listen up, everyone! Khloé Kardashian is not here for the body shamers on social media. In fact, if you body shame her, you will get called out. And that's exactly what Kardashian did on Monday, May 22. The new mom is tired of people telling her she's going too hard on her fitness routine now that she's had baby True. So, Khloé Kardashian clapped back at trolls who said she's focusing too much on her post-baby body.
The reality star took to her Snapchat to call out the haters who have said she's putting too much emphasis on her post-baby body:
What I'm annoyed about is I've read a couple of times on Twitter that they feel that I'm focusing too much on my body, but the truth is, I've worked out five or six days a week before I got pregnant and that's my sanctuary and something I love to do. I want to start doing that now and get back to my rhythm and in between feedings I want to find time to work out because that's going to be my new normal.
She has a point! What business is it of her followers if she wants to focus on her post-baby body? So many other moms do it. Why should it be any different for her?
Plus, her body has gone through quite a journey over the course of her pregnancy. Obviously, she wants to have some semblance of normalcy after carrying a baby for nine months.
For those of you not in-the-know, Kardashian gave birth to her daughter True Thompson back on April 12. Kardashian recently shared a video of the little one and she's so cute! Have a look:
In a recent post to her personal app, Kardashian wrote about how much she loves being a mom:
I've always been really patient with children and it's come in handy now that I'm a mommy. I think what surprises me most is no matter how tired you are, you find this energy and patience for your child.
But back to the body shamers. In addition to taking a stand against her relentless haters, Kardashian also made it clear on Snapchat that she loves working out and she's very passionate about it:
Just because I have a baby, doesn't mean I have to stop doing the things that I love, and I love working out and getting my mind right.
All good reasons to jump back on the fitness wagon. I don't understand why anyone would shame her for that.
Before calling out the social media trolls on Snapchat, Kardashian actually started off her message by explaining her likes and dislikes about getting fit. And, like so many people, she hates starting a workout, but loves the end result. Here's what she had to say:
The beginning parts of working out kind of suck because you're pushing your body so hard, you're so tired. It's much more difficult than you expect it to be. I've been working out for 11 days now, I feel really good, but tired. My body is sore because it's re-waking itself back up.
That's such a good way to put it. Starting a new workout regimen after being out of practice for a while definitely feels like reawakening the body.
But Kardashian seems up to the task, which is awesome. And her efforts really seem to be paying off. According to Kardashian, she's feeling great already:
Five weeks after baby, feeling good. Muscle memory is a real thing, it's still under there!
I have no doubt that Kardashian will get back into her routine in no time. She's a boss.