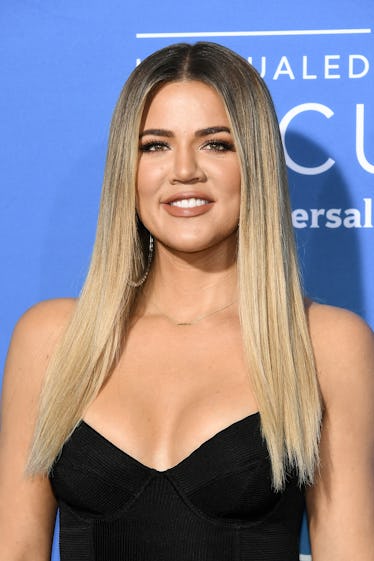 Khloé K Doesn't Care If Her Family Approves Of Staying With Tristan Thompson & Here's Why
Dia Dipasupil/Getty Images Entertainment/Getty Images
Khloé Kardashian is officially back in Los Angeles, and Tristan Thompson is there with her and their daughter, True. Kardashian traveled to L.A. with her 2-month-old daughter this past weekend, but it wasn't clear if Thompson came with them. Kardashian and Thompson were seen out together in L.A. on June 18, however, so he at the very least is going to be in the city for a bit. If you're wondering how the rest of the Kardashian/Jenner family feels about their relationship going strong, Khloé Kardashian's response to her family's disapproval of Tristan Thompson should clear things up.
Kardashian and Thompson are reportedly trying to make things work. Kardashian wants what's best for True, and to her, that apparently means trying to keep their new family together. Kardashian's family hasn't commented much on their relationship, other than Kim Kardashian and Kris Jenner who both have spoken out (albeit a bit vaguely) about how they feel about Thompson's reported infidelity. Suffice it to say the family doesn't approve of him. Khloé, according to sources, isn't bothered by their opinions, though.
Referencing Kardashian's move back to L.A., a source told People, "She hasn't been back to L.A. for several months, so of course she is excited." They continued, "Her sisters and friends decorated her house, and Khloé seems very happy. She can't wait to show off True to her friends that haven't met her before. And she can't wait to spend time with Kris [Jenner] and her sisters."
As for how the family feels about Kardashian bringing Thompson back with her and True, the source said she really doesn't care. "She still thinks she is making the best choice for her and True," the source said. "She doesn't need her family's approval and will keep doing her thing." Elite Daily reached out to Kardashian's team for comment on the report, but did not hear back by the time of publication.
Kris Jenner seems to have accepted the fact that her daughter's always going to do her own thing, no matter her family's opinion (she kind of always has). At a fashion show in L.A. on June 8, Jenner briefly spoke to outlets about her daughter's relationship drama. She said,
I think you just have to be there for your kid and follow their lead. I'm not in that relationship or in that situation, so I really trust Khloé. She's so smart, and such a great girl, and she'll figure it out.
People reports that Kardashian and Thompson were seen out together for the first time since the cheating rumors in L.A. on June 18. The report says they were seen getting dinner with Corey Gamble (Kris Jenner's boyfriend) at a restaurant in Malibu called Nobu. After dinner, they went to The Peppermint Club, where Kendall Jenner joined them, according to the report.
It definitely looks like Kardashian and Thompson are very much still together. On Father's Day this past Sunday, June 17, Kardashian posted her first photo of Thompson since before True was born on April 12.
The photo was of True napping in a car seat and holding her dad's finger. It was captioned, "Happy Father's Day."
This is the first and only thing Kardashian has openly posted about Thompson in a long time. She hasn't been addressing much about her personal life outside of giving fans updates on baby True, but she did take some time on Twitter on June 18 to talk about things people have been saying online about her post-baby body.
In a series of three tweets, Kardashian talked about the importance of incorporating a healthy lifestyle, whatever that means to each individual person, over "dieting."
The first tweet said,
I truly dislike when people report I've lost a tremendous amount of weight in a short amount of time or when people claim I'm doing these ridiculous diets. It's really setting the wrong tone. I believe in making lifestyle changes when it comes to my food.
She followed this up with,
Dieting is great but dieting doesn't typically create long lasting results. I also believe that working out is so incredibly healthy and should be done to each individuals own rhythm of life. There's no one size fits all when health and fitness."
And to close things out, she said, "To you out there, don't give up!! Everyday is a new day to find your rhythm." Kardashian really doesn't seem to mind that she's keeping fans in the dark about her relationship, but that's truly her prerogative. Knowing Khloé, if she does decide to talk about the cheating reports, she'll do it when she feels it's right.