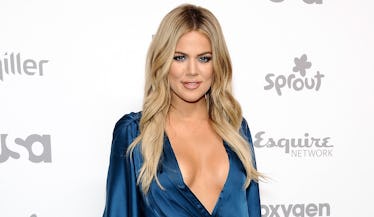 Fans Think Khloé Kardashian Is Trolling Those Pregnancy Rumors With This Photo
Khloé Kardashian is reflecting on her 2017, and she has a lot to be thankful for this year. The reality star posted a reflective look back on 2017 on her app, and it's filled with all her memories from this year with her family, her boyfriend, and her life in general. Khloé Kardashian's post about 2017 is sweet (even if it doesn't address what a heaping pile of flaming dumpster garbage this year has been for most of us, but who cares about that, am I right?!), but she doesn't even hint at her reported pregnancy. *Pretends to be shocked*. While she does talk about her relationship with Tristan Thompson, there's no hint of baby bliss in the post and fans think she's trolling all of us.
UPDATE: On Dec. 20, Khloe Kardashian confirmed that she is expecting a baby with Tristan Thompson in an Instagram post.
EARLIER: She said, "Wow, 2017. I can honestly say this was one of the best years of my life. So many incredible things happened and lots of good memories I'm going to hang on to forever." Yeah, same! Everything is great! OK, I'll stop with my bitterness and let her live. She continued to talk about her six nieces and nephews, saying, "I'm so lucky to have so many amazing kids in my family! I'm obsessed with Mason, P, North, Reign, Saint and Dream. I love hanging with them as much as I can."
The trolling comes in the form of the photos Kardashian decided to use in her tweet for her 2017 post. It's a collage of pictures featuring her and Tristan Thompson, as well as her and Kylie Jenner. So basically, a picture with her reported baby daddy along with a picture of her and her reportedly also pregnant sister. We see what you're doing, Khloé!!!
Outside of this apparent pregnancy rumor shoutout, Kardashian gave her bae a shoutout, saying, "I don't know how he did it, but Tristan pulled off the most epic surprise birthday party for me in June. I was shocked! It was such a fun night, surrounded by everyone I love." She also talked about the birthday party she threw Thompson earlier in March in Cleveland, where they've been living together during the NBA season #sportsball. She said, "In March, I threw Tristan a gold-themed birthday party at home in Cleveland and it was so fun! I'm still dreaming about those gold doughnuts, LOL."
I'd like to take this time to point out that if the reports are true and Khloé Kardashian is pregnant and due in March 2018, that means she probably got pregnant around June 2017 because math. So it's totally possible Kardashian's surprise birthday party was great for a whole other list of reasons...
She posted a selfie of her wearing sunglasses on her Snapchat story, and fans were quick to notice what was going on in the reflection of the glasses. When you look closely, you can see what's pretty clearly a pregnancy pillow laying on the floor. You know those body pillows that wraps around both sides of your bodies? Yeah, they're used by a lot of pregnant women 'cause they're comfy AF, and it looks like Khloé Kardashian definitely has one. Or, you know, one of her sisters or a friend left it at her house...? Nahhhhhh.
This is the pillow fans think they see in Kardashian's now-deleted photo:
In the mid-season finale of Keeping Up With The Kardashians, viewers were left with a huge cliffhanger for what's to come in the second half of the season. There was one clip in particular that fans now think will be Khloé Kardashian's pregnancy reveal, since we already know she won't be revealing anything in the Kardashian Christmas card like some fans predicted.
In the clip, you see lots of people at a party acting super surprised over some kind of news, and then you see Khloé walking around hugging people.
It looks a lot like a pregnancy reveal, fam. At one point, Kim Kardashian goes up to Kris Jenner and asks, "Did you not know?" And Mama Kris responds, "No!" Everyone else, including Kourtney Kardashian, looks equally shocked, but we'll have to wait until the show comes back to find out what it's really about. THIS WAITING GAME WILL NEVER FREAKING END.