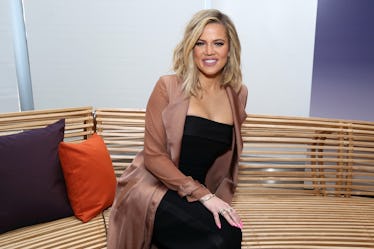 Khloé Kardashian Shared A Video of True On IG & I Can't Stop Smiling
Cindy Ord/Getty Images Entertainment/Getty Images
There's nothing like wrapping up a relaxing Sunday afternoon quite like an adorable baby video. Well, Khloé Kardashian's Instagram of True Thompson is the perfect way to end my week. I don't know about y'all, but my face hurts from grinning so much.
The Good American designer definitely knows how to start a month off right. On July 1, Kardashian #blessed all of us on Instagram by sharing a completely precious video of her new baby girl True Thompson. In the video, True absolutely glows partly thanks to the butterfly filter, but mostly because of that radiant smile she's giving the camera. I'm starting to get emotional just thinking about it.
"Aw, my happy girl. How's my happy girl," Kardashian coos in the video.
If I were Kardashian, I don't think I'd be able to stop posting precious videos like these of True. Thankfully for us, Khloé has been pretty generous over the past few months about sharing some glimpses into her and True's mommy-daughter bonding time. I'd be lying if I said I weren't a little jealous of the both of them. Just when I thought Kylie Jenner and Stormi Webster might be total mother-daughter goals, Khloé and True are catching up very quickly.
Just look at this photo and try to hold back that smile.
It feels just like yesterday when Khloé Kardashian announced via Instagram that she had given birth to this total angel. Even though all of us were on the edge of our seats waiting for the news to break, Kardashian eventually took us out of our misery on April 16 when she posted an Instagram of a pink tinted room along with the announcement that True had been born.
She wrote,
Our little girl, True Thompson, has completely stolen our hearts and we are overwhelmed with LOVE. Such a blessing to welcome this angel into the family! Mommy and Daddy loooooove you True!
I have to admit, all of these adorable pictures and videos of True make me semi-forget about the ongoing Tristan Thompson-Khloé Kardashian drama. In April, The Daily Mail and TMZ released videos of Thompson allegedly kissing multiple women at a nightclub in New York City while Kardashian was nine months pregnant. Elite Daily reached out to Kardashian and Thompson's teams at the time for comment on the reports, but did not hear back. Despite all the controversy that surrounded the two's relationship over the past few months, it appears that the drama is starting to finally settle. Not only is Kardashian back in Los Angeles, CA, but the two are reportedly trying to work things out for the sake of their relationship. I may not be the biggest fan of Thompson at the moment, but I do respect Khloé for putting the bad times aside for their daughter. You have to admit, that's gold star parenting right there.
Even though Thompson and Kardasian might be getting along, that doesn't mean her family might forgive him right away. However, on June 29, a source told People that things are actually relatively civil between Thompson and the Kardashian clan, excluding a light jab here and there.
"He is spending time with her family," the insider said, and added that the family "[has] jokingly been giving him a bit of a hard time. Like, 'we are watching you!'"
Elite Daily reached out to Kardashian and Thompson's teams for comment on the source's claim at the time, but did not heard back.
Let the Kardashian family keep their eyes on Thompson. In the meantime, I'll be enjoying watching as many True videos as I can manage. Keep them coming Khloé.