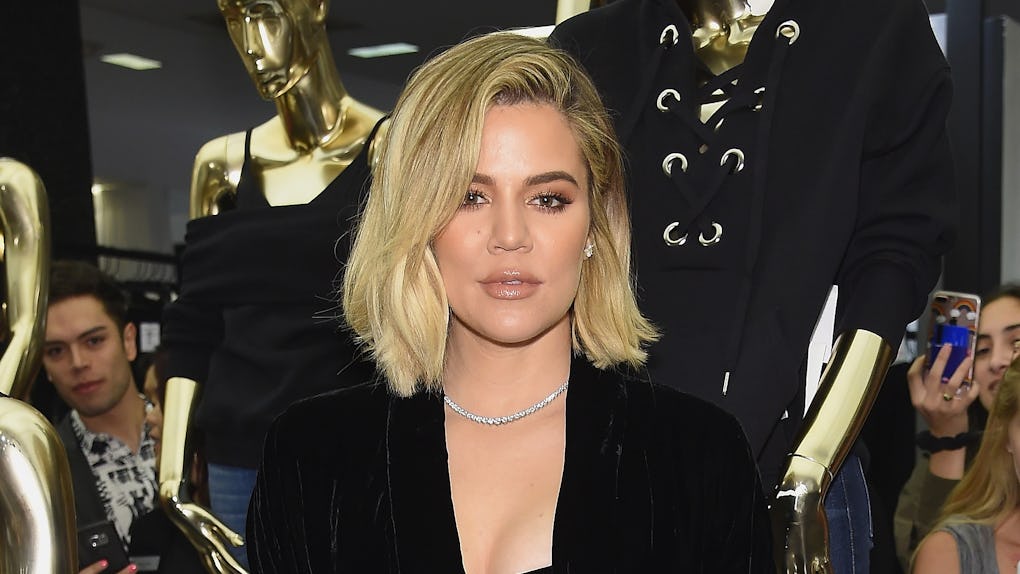 Jamie McCarthy/Getty Images Entertainment/Getty Images
Khloe Kardashian's Instagram Message About Her Lip Size On 'KUWTK' Is So Important
Khloé Kardashian is defending herself against plastic surgery rumors once again. Just weeks after confirming that no, she has not gone under the knife to get a nose job, the fitness star took to Instagram to issue a PSA about her "massive pregnancy lips." If fans are wondering why she's looking a little different on the upcoming season of Keeping Up with the Kardashians, they might want to read Khloé Kardashian's Instagram message about her lip size before making any judgments.
ICYMI, Season 15 of Keeping Up with the Kardashians airs on Sunday, Aug. 5, and Khloé Kardashian's pregnancy is sure to be a main plot point. Since giving birth to baby daughter True in April, Kardashian has been open about the online criticism she's received regarding her appearance, and she wanted to set the record straight on her plumper pout in advance. I'm not surprised, to be honest. It feels like the reality star is constantly fielding speculation about her changing appearance on social media — especially about her nose — and she probably wanted to get in front of any nasty comments about her appearance.
The 34-year-old took to her Instagram Story on Sunday to clear the air, writing, ""PSA I was pregnant during the entire season of KUWTK. Some women get 'pregnancy lips.' I was one of them."
She continued, "So my lips look crazy and massive. Trust me I know and I HATED it! A lot of wild sh*t happens to your body and face while pregnant. It's out of our control."
Adding that "most people don't have to film during an entire pregnancy," Kardashian asked viewers to "just watch the show and be kind about my growing body and lips."
She concluded, "Pregnant women should be off limits." Word.
I'll admit it: I didn't know that "pregnancy lips" were a thing until Beyoncé debunked rumors that she'd gotten lip injections last March. Fans were convinced that Queen Bey had pulled a Kylie Jenner after they saw her sporting a noticeably fuller pout. That is, until her publicist came out and attributed the swelling to being pregnant with twins, per Glamour.
Meanwhile, a fellow Kardashian sister has also admitted to experiencing the phenomenon. Back when Kim Kardashian West was pregnant with North West in 2013, she took to Instagram to share a selfie highlighting her enhanced pout. Unlike Khloé, however, she seemed to be a fan of the new look.
She wrote:
"My pregnancy lips are outta control #IGuessNotABadProblemToHave."
According to Glamour, "Swelling is a normal part of pregnancy, and it happens in just about every part of your body, including your lips," as told to the mag by Sherry Rose, M.D., an ob-gyn and women's health expert at Providence Saint John's Health Center. The swelling effect can also include less desirable spots, like your ankles, your feet, and even your nose.
Considering that Khloé has also complained about her nose spreading during pregnancy, it sounds like she knows what she's talking about.
In my opinion, though, it's every individual's decision whether they do end up going under the knife, and they shouldn't be shamed for it. Koko has admitted that she's still mulling over getting a nose job in the future, and if she decides to go that route, good for her. If she doesn't, also good for her. It's ultimately her body and her decision, so we should all be a little kinder about it.