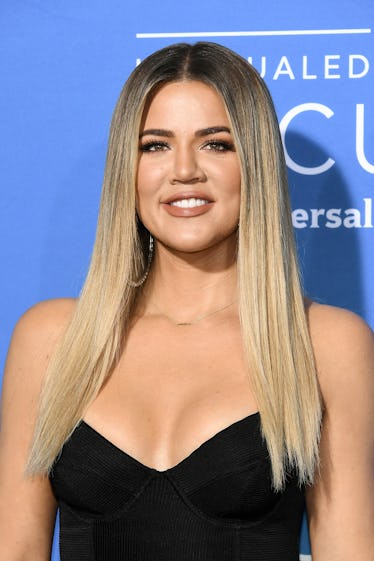 Khloé K Revealed Whether Or Not She Actually Got A Nose Job After Her Latest Instagram
Dia Dipasupil/Getty Images Entertainment/Getty Images
Khloé Kardashian is back in action, doing what she and her sisters do best: posting fire photos of themselves on social media. One of her most recent photos, though, has fans asking, "Did Khloe Kardashian get a nose job?" Several fans were quick to point out that the star's face looks decidedly different in the pic.
Kardashian has had a roller coaster of a year so far, to say the least. She was living in Ohio with her boyfriend, Tristan Thompson, and was practically days away from giving birth to their first child when rumors of Thompson cheating surfaced (in addition to some video footage of it allegedly happening). When Kardashian gave birth to their daughter, True Thompson, the celebrity rumor mill went wild, speculating whether or not the couple was still together. Kardashian and True then moved back to California to be close to her family, intensifying speculation that she and Thompson were broken up. Thompson, however, soon followed Kardashian and True back to the West Coast, and they're apparently working it out together as a family.
Now that you're all caught up on KoKo's personal life (I basically know more about the Kardashians than I do about myself), it's naturally time for more rumors and speculation! Kardashian's recent Instagram post is what sparked some questions — see it below for yourself.
Kardashian posted two photos of herself in Yeezy sneakers and a form-fitting, all-black outfit, captioning the photo with nothing but a black heart emoji. The post was not an #ad for anything or some sort of promotional content, just a beautifully blonde Kardashian enjoying the California sunshine.
Kardashian's followers on Instagram were quick to notice, though, that the new mother looked a little different than she used to. Kardashian has always shared her diet and exercise tips, and she's been very open about losing her postpartum baby weight, so what could it be that fans were wondering about?
It seems some of her followers thought she got a nose job! The comment section on Kardashian's post blew up.
One follower wrote, "Did she get her nose done or just really fleeky contouring[?]" Another responded and said, "Probably contour! Since she's been posting and hasn't had downtime. She [sic] got that makeup artist huntyyy." But then, something miraculous happened: Khloé Alexandra Kardashian responded to these nose job allegations.
"One day I think I'll get one because I think about it everyday. But I'm scared so for now it's all contour," wrote Kardashian.
Whoa.
Considering how many comments Kardashian must get about anything she posts, it's remarkable that she has time to respond to any of them. But I'm glad she did, because it set the record straight.
Kardashian actually responded to multiple comments on her post about her nose. One fan asked, "Did she do something to her nose or is that some good contouring?" Kardashian then responded, "[It's] great contouring!! We go overboard but my nose spread during pregnancy so I'm just waiting for it to go back lol." I wonder if Khloé uses her sister Kim's KKW Beauty Contour Kit?
Kardashian confirmed a third time that she's simply wearing a lot of makeup. Hopefully, the star's responses have quelled any further nose job theorizing for now. Although, she did admit that it's not out of the question in general, so fans may run into this debate again in the future.
Anyway, this is how I imagine Kardashian responds to any rumors about herself, because duh: