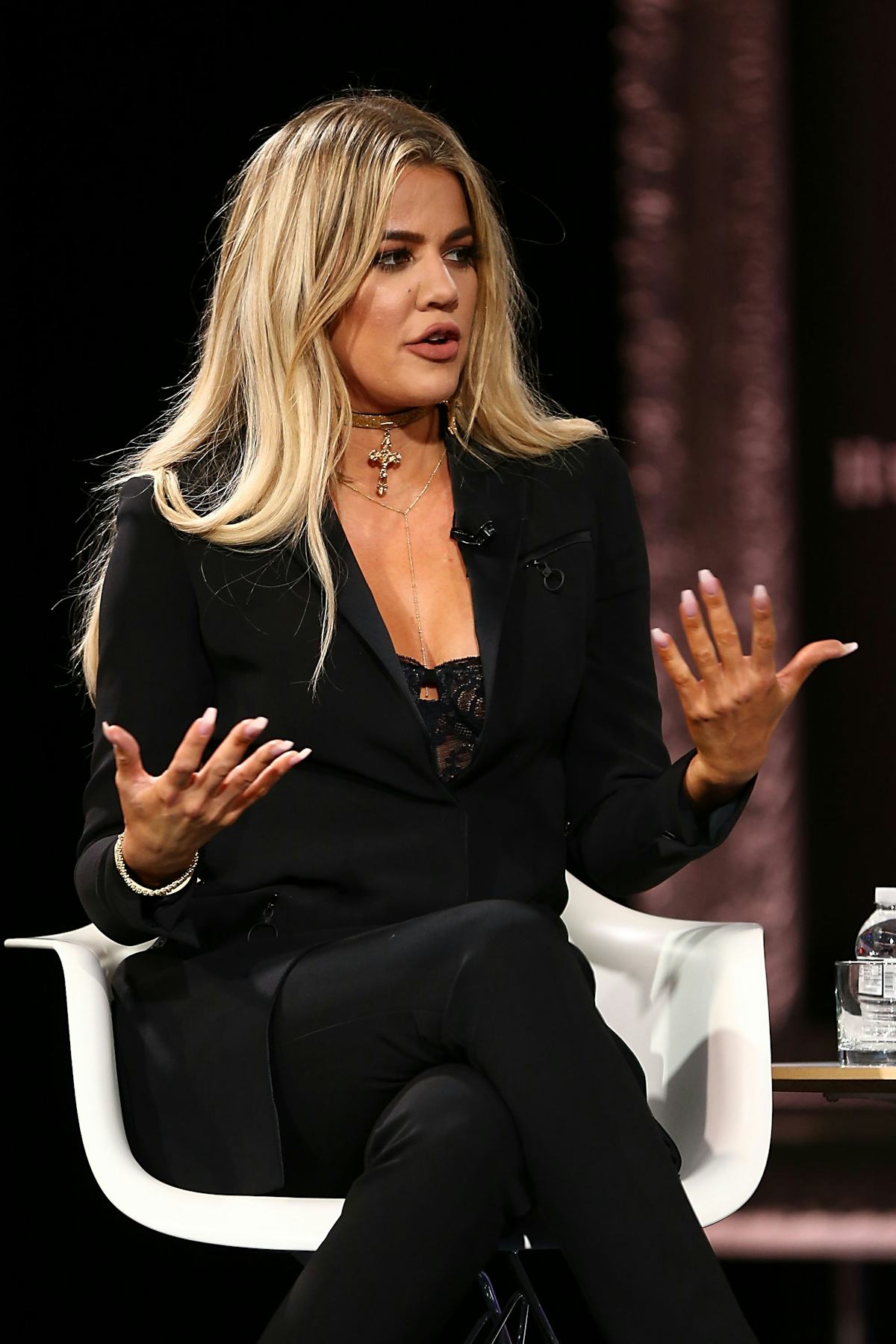 Khloé Kardashian Says She Considered Surrogacy Before Getting Pregnant
Joe Scarnici/Getty Images Entertainment/Getty Images
Remember when we thought the idea of three Kardashian-Jenners expecting a baby at the same time was out of the question? Like, how could this be? Well, it be, people. Kim Kardashian West welcomed her third baby via surrogate on Jan. 15, Kylie Jenner gave birth to Stormi Webster on Feb. 1, and now we're just waiting on Khloé Kardashian. With all these babies — I honestly can't imagine Keeping Up With The Kardashians ever ending. While we wait eagerly for Khloé's little bundle of joy, the starlet has been very open about her journey. In fact, Khloé Kardashian considered surrogacy at one point, she revealed during a recent interview.
You have to hand it to Khloé — since she has decided to share her pregnancy with fans, the reality star has been extremely open about it. Khloé has admitted to struggling with fertility in the past, and revealed during an interview that she actually did consider surrogacy at one time. However, her pregnancy came as such a "surprise," that Khloé never really had time to explore surrogacy as a viable option. She said during an interview on ITV's Lorraine,
I thought about surrogacy at one point, but then it just didn't cross my mind. When I got pregnant, I was just so surprised. ... I was just in shock, I think as much as everybody else was.
Khloé seems so, so happy with where life has taken her. It's safe to say that fans are equally excited for KoKo. When asked what it's been like to have her supporters "rejoicing" alongside of her, Khloé responded,
It's beautiful. It's crazy, I was so nervous for some reason to announce that I was pregnant. I just had these nerves. And, having everyone's positive and loving support is so... it's so great. Of course, I know the journey they've been along with me, but then you remember everything. Like, 'OK, wow. They feel so invested.' But I feel so honored that they're this invested with me.
Khloé's life is definitely under a microscope, and the positive reaction to her pregnancy is pretty amazing to see. Kardashian officially let fans in on her journey Dec. 20, 2017. She took to Instagram to share the news of her pregnancy. The caption of her black-and-white baby bump photo said,
My greatest dream realized! We are having a baby! I had been waiting and wondering but God had a plan all along. He knew what He was doing. I simply had to trust in Him and be patient. I still at times can't believe that our love created life! Tristan, thank you for loving me the way that you do! Thank you for treating me like a Queen! Thank you for making me feel beautiful at all stages! Tristan, most of all, Thank you for making me a MOMMY!!! You have made this experience even more magical than I could have envisioned! I will never forget how wonderful you've been to me during this time! Thank you for making me so happy my love! Thank you to everyone for the love and positive vibes! I know we've been keeping this quite but we wanted to enjoy this between our family and close friends as long as we could privately. To enjoy our first precious moments just us Thank you all for understanding. I am so thankful, excited, nervous, eager, overjoyed and scared all in one! But it's the best bundle of feelings I've ever felt in my life!
Khloé is enjoying pregnancy, but she is "ready" for motherhood. She explained,
I think it puts so many things into perspective. And so many people say, 'Once you have a baby, your life just begins, and you're going to realize everything you were doing was nonsense.' But honestly, I'm just so happy this is happening in my life right now. People always say, 'When you're ready, you'll have a baby.' I feel so ready.
If you've been a fan of KoKo's and have watched KUWTK for awhile, Khloé being ready for motherhood comes as no surprise. However, she's had about enough of the friendly advice she's been getting from Kourtney. She divulged in true Khloé fashion,
I've gotten to the point... I'm like, 'OK, shut the f**k up and take your own advice. Like, I love Kourtney, but... I'm going to figure it all out, I promise you. We're all going to learn. So some advice is great, but it's also not what you say, it's how you say it.
All is fair between sisters. Khloé is obviously doing great and taking her pregnancy one day at a time. We have Chicago West, Stormi Webster, and now we're just waiting for baby Kardashian-Thompson.
Check out the entire Gen Why series and other videos on Facebook and the Bustle app across Apple TV, Roku, and Amazon Fire TV.