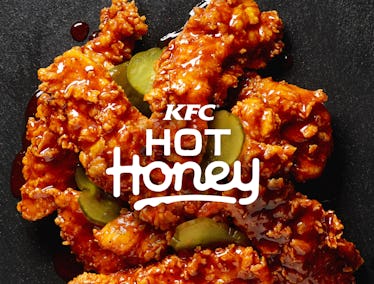 Hot Honey Chicken Is FINALLY Available In All KFC Locations For A Sweet & Spicy Snack
KFC
If you think about it, most of your favorite menu items at major chain restaurants were probably concocted in a test kitchen: McDonald's Double Quarter Pounder, Chipotle's burrito bowls, and Chili's Presidente Margaritas all started out there. Back in 2017, a new menu item entered the test kitchen at KFC, and after about a year, it was finally added to menus nationwide. So if you weren't one of many in Norfolk, Virginia or New York State who apparently highly approved of KFC's Hot Honey Chicken, then you better get ready for the sweet and spicy treat you've always been waiting for.
First, there was the pure joy that was Pickle Fried Chicken. Now, there's a new trending flavor that's hitting menus everywhere: Hot Honey. Combining the flavors of sweet, saccharine honey and hot, spicy peppers, according to the press release, it covers all of the tastiest bases. In fact, this glorious combination is what many are calling "the next sriracha." Anyway, Hot Honey Chicken is now available at participating U.S. KFC restaurants for the foreseeable future, per KFC, and you can order it in the form of a Crispy Colonel Sandwich, Extra Crispy Chicken Tenders, Chicken Littles, and Extra Crispy Chicken. TBH, each option has my mouth watering.
Bob Das, the Head Chef of KFC U.S., said in a press release that spicy honey is extremely popular down South, so the fried chicken chain decided to create its own original recipe. He also said that the new flavor debuted at the perfect time. With fall just around the corner, customers will definitely want to warm up with KFC's hearty Hot Honey Chicken alongside a roaring fire and a dog at your feet. I added that last part, but doesn't it sound magical?
In the press release, Das said:
If you travel across the south [sic], you'll find different recipes for sweet and spicy honey-based sauces. We went through many versions to find the combination of sweet and mild spice that perfectly complements our world-famous fried chicken. With summer coming to an end, people start to crave the soul-warming, comforting flavors that come with fall, so it's the perfect time to introduce our new Hot Honey fried chicken.
If you're all about that electrifying taste, according to the press release, KFC is currently selling four "southern-inspired" flavors, and they're going to blow your mind. These include the new Hot Honey as well as the spicy, smoky, crispy Nashville Hot; Georgia Gold honey mustard BBQ; and last but not least, Smoky Mountain BBQ fried chicken. Picking just one off the already-extensive menu might be one of the hardest decisions you've ever had to make, but trust me: it'll pay off.
KFC's Pickle Fried Chicken, on the other hand, debuted in the beginning of summer 2018, on June 25. It was only around for a very limited time — after being revealed as as the restaurant's new "mystery flavor" — and once supplies ran out, it was gone. If you're into salt and vinegar, it was definitely everything you could have ever wanted.
Maybe you can't decide between hot and sweet, or there's a chance you're looking for a hearty way to kick off fall. Regardless of your reason for enjoying this new bite, Hot Honey Chicken is here to stay, and it's seriously changing lives (and lunches).