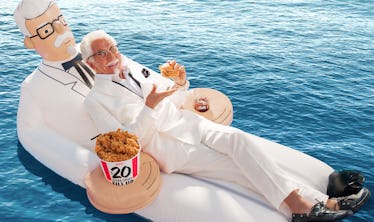 Your Summer Will Be Finger-Lickin Good With KFC's Free Colonel-Shaped Pool Floaties
KFC
There's a likely chance you've noticed the cute pool floatie trend — they've been ~all the rage~ these past few summers, and I totally get the hype. Not only are they super comfy for floating and suntanning, but they also make for the perfect pool accessories (aka prime photo-ops for Instagram... am I right?). Anyway, while swans, slices of pizza, unicorns, and wine bottles tend to be pretty popular floatie shapes, you can win one of KFC's Colonel-shaped pool floaties, and I'm honestly so stoked. Not only are they hella unique, but they'll also make for a finger-lickin' good summer. Sign me the heck up.
Our nation's fried chicken connoisseurs, KFC, launched an online contest on Wednesday, May 23, and I am dying to win. It gives fans a chance to win a limited-edition KFC Colonel Sanders floatie, and it's the pool accessory of my dreams. Each of the Colonel's hands have special compartments for floaters to store a fried chicken bucket (if that tickles your fancy), as well as a spot for something smaller, like a fried chicken sandwich. I know for a fact that both of those sections will be filled to the brim when I get my hands on one of these, so if you need me, I'll be here, floating with my chicken. And I'll be licking my fingers, of course.
Floating and eating fried chicken is pretty ideal, you know? So having a Colonel-shaped floatie with specific fried chicken storage compartments is a total dream come true. And luckily, entering to win the floatie is simple. According to a press release, contestants should simply navigate to the KFC floatie website, type in their email address, and agree to the terms and conditions below. Then, submit it, and it's all set! The contest is only open through June 22, and the winners will be announced on June 23. Don't forget that quantities are super limited, so definitely act fast if you want one of these babies. I know I do.
Looking to unwind with a cocktail while floating aboard the S.S. Colonel? KFC came out with a variety of gravy cocktails recipes, and they're sure to make your afternoon in the sun a breeze. The KFC's U.K. and Ireland teams concocted these gravy-laden drinks, and they're honestly so genius. You can choose to make the Gravy Mary, which is made with vodka, the Finglerlickin' Sour, which is made with mezcal, or the Southern Twist, which is made with Kentucky Bourbon. There's actual gravy in each of them, and they're all pretty great choices — so why not try making all three?
KFC was especially busy for the royal wedding last weekend. They created a specially-designed Royal Wedding Bucket to honor Prince Harry and Meghan Markle, and TBH, it was the most glorious thing I've yet to set my eyes on. The bucket was gold and decorated with a regal crest, gold flourishes, British and American flags, as well as the wedding date: May 19, 2018. It also read, "We declare a regal day of celebration, jubilation... and fried chicken." The royal wedding buckets were extremely rare, as the company only 50 of them at the Windsor branch on Dedworth road, so if you got one, make sure to cherish it forever and ever.
Entering to win a KFC Colonel-shaped is incredibly simple, and honestly, who wouldn't want to spend their summer floating in a pool while eating buckets of fried chicken? You and I both know for a fact that these are going to make for the perfect Instagram pics, so hop aboard the S.S. Colonel. If you do end up winning, just know that I demand to be invited over for a pool party. Actually, don't worry about it — I'm already there.