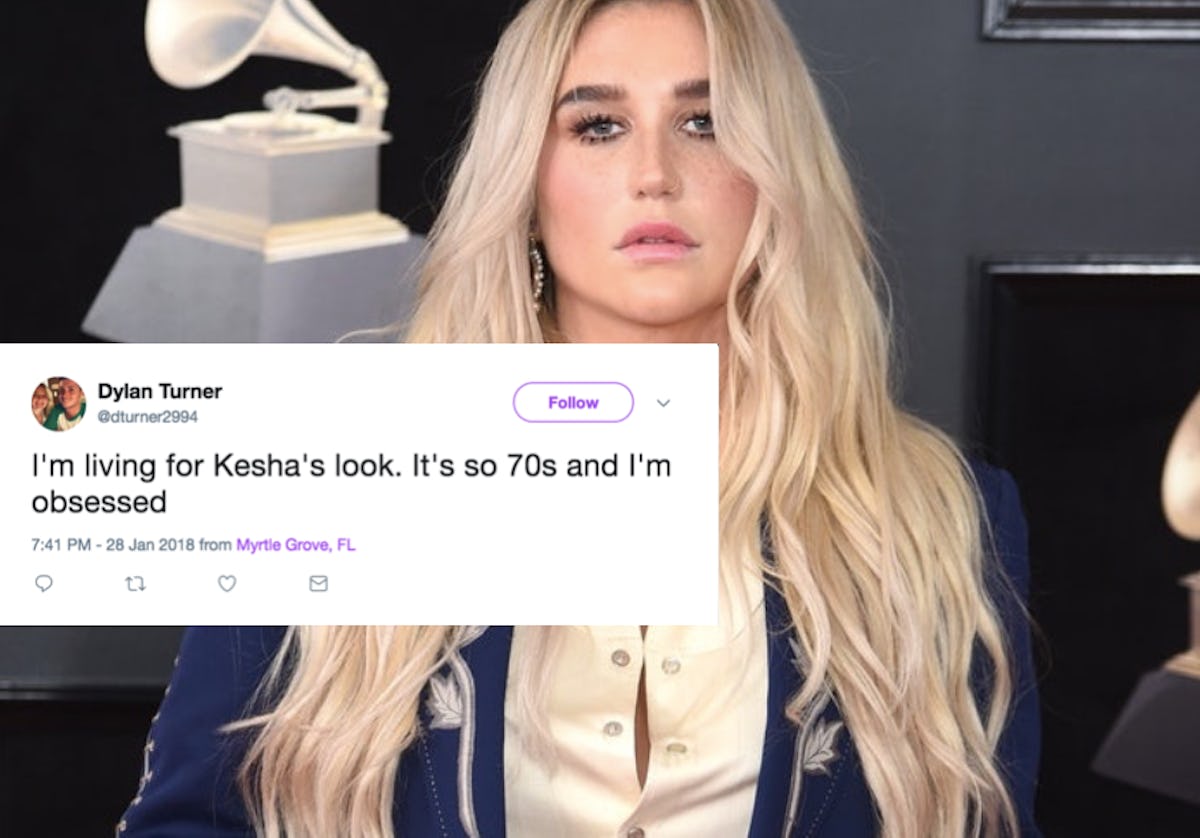 Kesha's Grammys Look Was Completely Unexpected & Twitter Is Here For It
Jamie McCarthy/Getty Images Entertainment/Getty Images
Whether you're a Kesha supporter, lover, or fan club president, the day we've all been waiting for is here: The Grammy awards are happening and Kesha is nominated for (and hopefully winning) the numerous accolades that she deserves, and our queen of rainbows didn't disappoint us on the red carpet. Kesha's 2018 Grammy Awards outfit is totally turning stereotypes on their heads.
Now, I've been a fan of Kesha since way back when her name contained a dollar sign, she puked glitter and Jack Daniels, and encouraged her animals to party and be free. Little did we know that underneath the surface, Kesha was fighting a battle. The result: a beautiful album called Rainbow full of songs that enough you to not "let the bastards get you down," and to "learn to let go." The country-laced pop rock album is a technicolor party full of hope, remembrance, forgiveness, and inspiration. Kesha overcame her demons and she wants her ever-loving animals to do the same.
And this year, she's letting the music speak for itself:
The last time Kesha attended the Grammys was back in 2010. Kesha was still in her era of glitter grunge. She wore a gold glittery dress and smudged black eyeliner overlayed with ever more gold glitter. Her curly, sandy blonde hair was curly and wild, twisting and coiling in every which way. In true Kesha fashion, she looked as if she had attended an all-night eager the night before, crashed on a friend's couch, and rolled up to the Grammys still clad in her best club beat.
Since then, her style has evolved drastically. Gone are the days of blue lips and black smoky eyes. Now, her world is even more colorful. Just like butterfly, Kesha had to retreat into her cocoon for a bit, only to emerge more beautiful and powerful than ever. She's embraced flow-y hippie-inspired dresses, like a colorful Stevie Nicks. Conversely, she's also rocked elaborate suits adorned with spangles, fringe, and embroidery, reminiscent of '60s and '70s men's rockabilly stage wear.
Just like Kesha sings in "Rainbow," she had kaleidoscopes in her hairdo, and on her eyes and lips as well. Her makeup artist, Vittorio Masecchia, makes sure Kesha is clad in rich technicolor all over her face. Whether she's sporting rainbows or not, her makeup is always ethereal and angelic, often embracing a subtle nude lip.
In keeping with the rockabilly theme, Kesha donned a well-tailored navy suit embroidered with white roses (a committed nod to the Time's Up movement), paired with a soft cream silky shirt, long blonde extensions, and minimalistic makeup. On Sunday night, Jan. 28, Kesha let her fans focus on the power of her music rather than the flamboyance of her look. Her toned-down shadow and subtle incorporation of glitter (re: her silver spangled boots) show that yes, she's still Kesha, but her voice should be drawing all the attention this evening.
Twitter is here for Kesha's powerful and simplistic red carpet look. Stans immediately saw Kesha's support for the Time's Up movement (of course). How far in advance did she knew about the white roses? Embroidery takes time, man! What a strong way to show your unity with your fellow women in music:
As you can see, Twitter is totally loving her look. It's bold, yet simple — and totally lets her music speak for itself. She even included a white rose in the most creative way possible, and we're totally here for her nod to the Time's Up movement. Who needs a real rose when you can have one sewn into your outfit, anyway?
I think we can all agree that Kesha's casual look owned the red carpet.