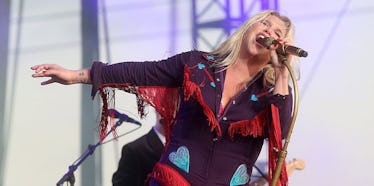 Kesha Stopped A Show To Throw Shade At Dr. Luke: "No One Can Ever Own You" – VIDEO
Gary Miller/Getty Images
Kesha, our wonderful, powerful queen of pop, is back in the spotlight again, and this time she's standing up for herself. Hey, nobody puts Kesha in the corner, and especially not Dr. Luke. At a show in Las Vegas on Sept. 16, 2017, fans filmed a video of Kesha throwing shade at Dr. Luke, and it's absolutely everything. While performing the cover song, "You Don't Own Me," Kesha stopped the entire performance and went on a rant. Get it, girl.
She yelled to the audience,
Nobody can ever own you. No matter what they say. No matter what they do. Because to truly own you means they can take away your happiness. And do not ever let some mother f***er take away your happiness!
Whoa. She is not messing around this time, and we are here for it. Kesha released her first album in five years, Rainbow, in August of 2017, and fans were thrilled. I was thrilled. Everyone was thrilled! Not only was the album artistically creative, but it was also deeply moving. Is there anyone out there who didn't cry? I know I did, but in a really powerful, motivational sort of way. It's hard to explain, OK? All I know is Kesha is perfect. I love you, Kesha.
While she never mentioned Dr. Luke's name during her Las Vegas show, it does seem pretty obvious she's referring to her legal battle with the record producer.
Kesha proved to the world that she was a strong, feminist woman back in 2015 when she filed a civil lawsuit against her record producer, Dr. Luke. Her relationship with Dr. Luke began in 2005, when the starlet was only 18 years old. Kesha signed a six-album contract with Dr. Luke, who took part in producing some of her subsequent top hits, such as "Tik Tok" and "Timber." Ever since the lawsuit began in October of 2015, the singer has been deep in legal battles with her former producer over claims he "sexually, physically, verbally, and emotionally abused" her. Fortunately, Kesha cut ties with the producer years ago. It's going down, y'all, and she's yelling timber.
Since October of 2015, Kesha has been in court desperately trying to get out of her deal with Sony in order to record with other producers, without Dr. Luke's approval or attachment. Kesha's contract with Sony can't be terminated because, apparently, the company wasn't involved when the initial deal was signed by Dr. Luke in 2005. It's all a little suspicious and a little confusing.
So, will Dr. Luke make money off Kesha's new album? It's possible. According to The New York Times,
The short answer is yes — any commercial triumphs Kesha experiences with Rainbow are, on paper, a win for Dr. Luke as well, given the ongoing contracts that cover both her recorded music and her songwriting royalties (or publishing).
Yikes. That is not good. No wonder Kesha was screaming on stage. I feel you, girl. I feel you.
So, could the lyrics from Kesha's new album, Rainbow, possibly be about Dr. Luke and the entire lawsuit? Just look at these lyrics from the song "Learn To Let Go." Ouch.
Been a prisoner of the past Had a bitterness when I looked back Was telling everyone it's not that bad 'Til all my shit hit the fan
I know I'm always like Telling everybody, "You don't gotta be a victim Life ain't always fair, but hell is living in resentment Choose redemption, your happy ending's up to you
I think it's time to practice what I preach Exorcise the demons inside me Whoa, gotta learn to let it go The past can't haunt me if I don't let it Live and learn and never forget it Whoa, gotta learn to let it go
Had a boogeyman under my bed Putting crazy thoughts inside my head Always whispering, "It's all your fault" He was telling me, "No, you're not that strong"
This could possibly/definitely be all about Dr. Luke, and I love it. Kesha, we've got your back. Keep fighting.
Check out the entire Gen Why series and other videos on Facebook and the Bustle app across Apple TV, Roku, and Amazon Fire TV.