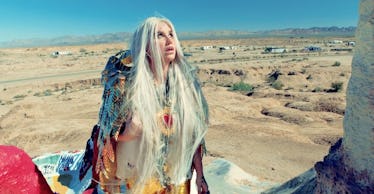 Kesha Finally Announced Her 'Rainbow' Tour Dates, So Get Your Glitter Ready
YouTube
After the release of three brand new singles that got Kesha started on the greatest comeback ever, Kesha has finally announced her Rainbow Tour dates. The Rainbow Tour will consist of 21 shows starting Sept. 26 in Birmingham, Alabama. The last stop will be on Nov. 1 in L.A. Following this exciting news, fans are now wondering how to buy tickets to Kesha's Rainbow Tour.
According to Billboard, the Rainbow Tour tickets will go on sale at 10 a.m. local time on Aug. 5 on Kesha's website, KeshaOfficial.com. The pre-sale will begin at 10 a.m. local time on Aug. 3, and anyone who buys a ticket to the concert will reportedly also receive their own copy of Rainbow, Kesha's upcoming album set to release Aug. 11.
Kesha said in a statement,
My new album 'Rainbow' is dedicated to my fans. And I'm so excited to be able to invite you all to come boogie with me on my new 'Rainbow Tour.' I would not have made it to this point without my animals and supporters so now come out and join the celebration with me.
After the release of not one, not two, but three new singles in the last two months — "Praying," "Woman," and "Learn To Let Go" — Rainbow is no doubt going to be one of Kesha's best albums yet. The Rainbow Tour is her first tour since 2013. Fans are already armed and ready to throw all of their money at Kesha's Rainbow Tour.
"Praying" was Kesha's first new song in four years following a massive legal battle with her producer, Dr. Luke, whom Kesha accused of allegedly sexual assault and emotional abuse. The "Praying" lyrics are all about Kesha's struggles throughout this entire heartbreaking ordeal, and it's hard not to shed some tears while watching the "Praying" music video.
But fans are so happy to see her making her comeback and having the opportunity to go back on tour. And if her new music is any indication, it seems like Kesha is ready to finally take control over her own career. In a piece Kesha wrote for Lena Dunham's Lenny Letter the day "Praying" was released, she said,
'Praying,' my first single in almost four years, comes out today. I have channeled my feelings of severe hopelessness and depression, I've overcome obstacles, and I have found strength in myself even when it felt out of reach. I've found what I had thought was an unobtainable place of peace. This song is about coming to feel empathy for someone else even if they hurt you or scare you.
Welcome back, Kesha.