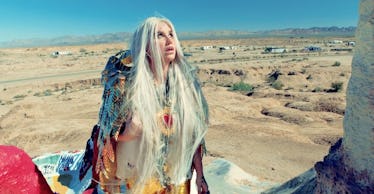 Here Are The Most Heartbreaking But Beautiful Lines From Kesha's New Song "Praying"
YouTube
Kesha is back, everyone, and she is bringing an incredible new song and music video with her.
In her new hit, "Praying," Kesha dives deep into her emotional past. In a piece she wrote for Lenny Letter, Kesha explained,
'Praying,' my first single in almost four years, comes out today. I have channeled my feelings of severe hopelessness and depression, I've overcome obstacles, and I have found strength in myself even when it felt out of reach. I've found what I had thought was an unobtainable place of peace. This song is about coming to feel empathy for someone else even if they hurt you or scare you.
Take a look.
Praying (Official Video) by Kesha on VEVO.
I know. I'll give you a minute. It's seriously heavy and moving stuff.
The song also comes after a brutally long, personal, and legal battle with Kesha's ex-producer and ex-collaborator, Dr. Luke, after she accused him of sexual assault and battery.
In the very beginning of the music video, Kesha says,
Am I dead? Or is this one of those dreams, those horrible dreams, that seem like they last forever? If I am alive, why? Why? If there is a God or whatever, something, somewhere, why have been I been abandoned by everyone and everything I've ever know? I've ever loved? Stranded. What is the lesson? What is the point? God give me a sign or I have to give up. I can't do this anymore. Please just let me die, being alive hurts too much. 
WOW. And that's not even the song yet.
In the song itself, Kesha belts the lyrics:
[Pre-Chorus] 'Cause you brought the flames and you put me through hell I had to learn how to fight for myself And we both know all the truth I could tell I'll just say this is I wish you farewell [Chorus] I hope you're somewhere praying, praying I hope your soul is changing, changing I hope you find your peace Falling on your knees, praying
That's powerful stuff. For more on Kesha's journey, catch the full interview at Lenny Letter.
If you or anyone you know is suffering from depression or suicide, visit Suicide Prevention Life.