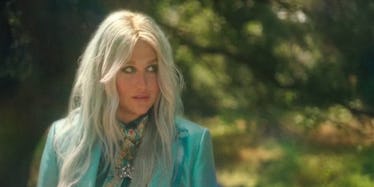 Kesha's New Song "Learn To Let Go" Is The Mantra We All Need To Hear
YouTube/Vevo
Kesha is back, baby. The star just dropped another new video and song called "Learn To Let Go," and Kesha's lyrics are so inspiring. The new song is all about taking a step back and embracing the past as part of who you are.
The star sings:
I know I'm always like Telling everybody you don't gotta be a victim Life ain't always fair, but hell is living in resentment Choose redemption, your happy ending's up to you So I think it's time to practice what I preach Exorcise the demons inside me Whoa, gotta learn to let it go The past can't haunt me if I don't let it Live and learn and never forget it Whoa, gotta learn to let it go
I think we all can relate, on some level, to this feeling. GOSH, KESHA. It is so great to have you back. Kesha also wrote a letter accompanying the song for The Huffington Post. She wrote,
'Learn to Let Go' is more than a song title... it's become one of my mantras over the last few years ... As much as our past creates who we are, we can't let it define us or hold us back.
The artist also dropped a video with her new song, which shows her walking in the woods wearing a gorgeous blue blazer and matching blue shoes. There are also clips of what seem to be a home video of Kesha's, also in the woods. It goes perfectly with the idea of embracing the past.
This is the second song Kesha has dropped this month. The first was "Praying," which was Kesha's first single in almost four years. Those lyrics were just as emotional. She sings,
'Cause you brought the flames and you put me through hell I had to learn how to fight for myself And we both know all the truth I could tell I'll just say this is I wish you farewell
Obviously, Kesha has been through a lot, and these songs are just a testament to the talent we've all been missing these past few years. Keep killin' it.