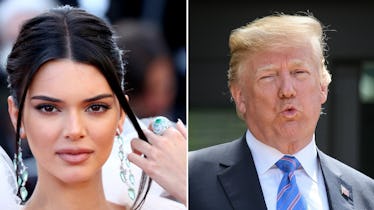 Kendall Jenner Shaded Donald Trump On 'Celebrity Family Feud' & Twitter Lost It
Tristan Fewings/Getty Images Entertainment/Getty Images/Leon Neal/Getty Images News/Getty Images
What's better than watching your favorite celeb families go head-to-head in a gameshow? Oh I know, it's when one of them gets cheeky about the current president. Or is that just me? Kendall Jenner shaded Donald Trump on Celebrity Family Feud, and Twitter lost it.
The Kardashians and Wests took each other on in a game of Celebrity Family Feud which aired on Sunday, June 10. Of course it was all in good fun, but Jenner totally stole the show when she managed to sneak in some shade.
If you're not familiar with how Family Feud works, allow me to explain. Random people are given a survey with a series of questions (off-screen). Then, contestants play as a family, and the host, Steve Harvey, asks a question from the survey and the constants' answers have to match up with the top answers received from the survey. Jenner was asked, "You're at a wild party, everyone is naked, name someone you'd hate to see show up?"
Jenner replied, "Donald Trump." Boom.
Now the top answer was actually "a celeb," but it was in the category so they gave it to her. But who cares, it was some Grade-A shade. Naturally, Twitter went wild.
Jenner's answer was even more hilarious given who was in the room.
Recently, the Kardashian/West crew hasn't exactly been in the news for shading Trump. It all started when Kanye West decided to join Twitter again. At first everyone was pretty excited to see what would come of it, but then not so much. Within a short time of being back in the Twitterverse, West began tweeting a lot of Trump-loving tweets that made some people kinda upset. On April 25 West confessed his love for Trump. He said,
You don't have to agree with trump but the mob can't make me not love him. We are both dragon energy. He is my brother. I love everyone. I don't agree with everything anyone does. That's what makes us individuals. And we have the right to independent thought.
If that weren't enough to make people mad, West also tweeted a photo of himself sporting a Make America Great Again hat and a second photo to show that the hat was signed by Trump.
So maybe Jenner's comment was a little bit of shade at West too?
More recently, Kim Kardashian visited the White House, although she went with purpose and not just to fangirl over The Donald.
On May 30, Kardashian reportedly visited the White House to ask Trump to pardon Alice Marie Johnson, a 63-year-old woman who was serving out a life sentence for a drug-related crime. After hearing her story a few months earlier through a documentary released by Mic, Kardashian has pushed for her release. On June 6, her hard work paid off, when Trump commuted Johnson's sentence and she was released from prison.
Kardashian got what she wanted, but the world also got an awkward-looking photo out of it thanks to Trump. The president tweeted the photo of himself seated at his desk in the Oval Office and Kardashian standing next to him. The caption read, "Great meeting with @KimKardashian today, talked about prison reform and sentencing."
Who takes a picture like that? Have a look for yourself, is it just me or is it super uncomfortable looking?
It's kind of hard to tell where the Kardashian/Jenner crew as a whole stands on Trump, but I think we can all safely say that Jenner, at least, is not a fan. I am pretty impressed by how she thought on her feet and managed to get to the perfect pull quote for the Internet. Good job, Jenner. Tonight, you're Twitter's hero.