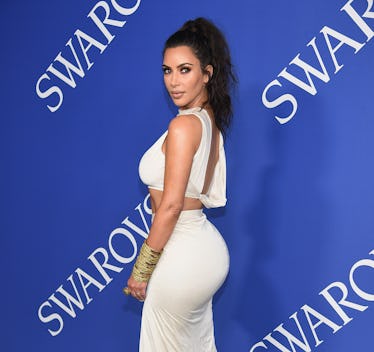 Kim Kardashian's Reaction To Trump Granting Alice Marie Johnson Clemency Is Everything
Dimitrios Kambouris/Getty Images Entertainment/Getty Images
Remember when Kim Kardashian went to the White House to ask President Trump to consider granting clemency to a woman named Alice Marie Johnson? Well, it worked, and Kim Kardashian's reaction to Trump granting Alice Marie Johnson clemency is genuinely wonderful news to read today. It's not often that we get positive news like this nowadays, so let's soak this all in, people.
AP reports that White House officials announced on Wednesday, June 6, that Trump decided to commute Johnson's life sentence. Johnson was given a life sentence for a first-time, non-violent drug offense back in 1996 and has been in prison ever since without the option of parole. Kardashian learned of Johnson's plight via a short documentary Mic made about her released in October 2017. She has reportedly been advocating for Johnson ever since.
This advocacy brought Kardashian to the White House on Wednesday, May 30, to discuss Johnson's case and prison reform. At the time, the internet was really confused about why a reality star was going to the White House to talk about prison reform, but, uh, lol. Let's not forget there is currently a former reality star occupying the Oval Office.
Anyways, moving on! Kardashian explained her meeting with Trump in a tweet following the meeting on May 30 (Johnson's birthday). She said,
I would like to thank President Trump for his time this afternoon. It is our hope that the President will grant clemency to Ms. Alice Marie Johnson who is serving a life sentence for a first-time, non-violent drug offense.
She continued in a second tweet, "We are optimistic about Ms. Johnson's future and hopeful that she — and so many like her —will get a second chance at life."
Johnson penned an article for CNN in 2017 to explain her plight. It read in part,
I want this part to be clear: I acknowledge that I have done wrong. I made the biggest mistake of my life to make ends meet and got involved with people selling drugs. This was a road I never dreamed of venturing down. I became what is called a telephone mule, passing messages between the distributors and sellers. I participated in a drug conspiracy and I was wrong.
Kardashian reacted to the happy news on Twitter by saying, "BEST NEWS EVER!!!!"
Kardashian tweeted again, saying,
So grateful to @realDonaldTrump, Jared Kushner & to everyone who has showed compassion & contributed countless hours to this important moment for Ms. Alice Marie Johnson. Her commutation is inspirational & gives hope to so many others who are also deserving of a second chance.
In one final tweet, Kardashian said she hopes to continue fighting for people with similar stories to Johnson's. She said,
I hope to continue this important work by working together with organizations who have been fighting this fight for much longer than I have and deserve the recognition.
Khloé Kardashian praised her sister's efforts, as did lots of other people on Twitter.
She said, "Kimberly you are such a beautiful person inside and out!! I am constantly amazed by your determination! No matter what, you never let anyone else dictate your life! What's right is right! You did what was right! God bless you @KimKardashian."
The White House said in a statement to BuzzFeed news about Trump's decision, "Despite receiving a life sentence, Alice worked hard to rehabilitate herself in prison, and act as a mentor to her fellow inmates."
People on Twitter are now praising Kardashian for her efforts.
It's a noticeable change from last week when people thought she wasn't qualified to discuss prison reform.
While it still remains true that Kardashian most likely does not know the most in the world about prison reform, it's good that she used her platform to elevate the story of a struggling woman who needed help. And that help turned out to be the final push Johnson and the countless other people helping her over the years needed.