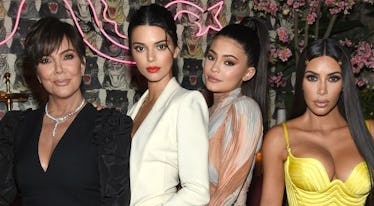 Kanye West Had The Funniest Answer In This Promo For The Kardashian 'Family Feud' Episode
Dimitrios Kambouris/Getty Images Entertainment/Getty Images
By all accounts, the Kardashian-Jenner clan is as tight a family unit as they come. But what happens when they all come together for some fun and games? Well, you could say that their passion and competitiveness ignites a family feud of sorts. The entire family will be featured on a brand new episode of the Family Feud game show and it looks like it's going to get wild! Khloé Kardashian actually shared the promo for the Kardashian-Jenner Family Feud episode and fans are super excited about it.
In the promo for the episode, which airs on Sunday, June 10, several members of the Kardashian-Jenner family play their way through the game. The promo shows Kris Jenner, Kim Kardashian, Kendall Jenner, and a very pregnant Khloé Kardashian.
Even Kanye West is there to make it known that he's in it to win it. Funnily enough, when up against Mama Kris, West makes the moment super awkward by pressing his buzzer first to answer the following prompt from Steve Harvey:
Name a reason you think Steve Harvey's a good kisser.
Can you guess what West's answer was?
"Lips," he responded.
And he did so with a super sly smile on his face, as if he knew that Harvey wouldn't necessarily appreciate his answer, because awk! And when Harvey looked like he was going to topple over in pain from the awkwardness, West had a simple response: "I'm here to win, bruh!" he said, shaking his head shamelessly. "I'm here to win."
Too funny!
Here's a look at the promo for Family Feud:
There's been no word yet on whether Kylie Jenner, Kourtney Kardashian, Rob Kardashian, or any other close family members and spouses will be on the show. The promo only showed a few familiar faces and a few not-so-familiar ones, so you'll have to tune in to see who all shows up!
Whatever the line-up is on the show, it's sure to be lots of fun to watch. There may even be a little sisterly rivalry going on between Khloé and Kim. In the promo that Khloé shared, she and Kim are up at the podium and ready to compete. Beforehand, though, Kim tries to shake Khloé's hand and she refuses!
"Not today, Kim," Khloé says in jest.
So, yeah, this is definitely one episode of Family Feud you don't want to miss!
News of the Kardashian-Jenners' participation on the game show comes as the family is grappling with all kinds of media speculation, criticism, and rumors.
In recent weeks, a source told People that there's friction in the family because Khloé has chosen to stand by her boyfriend Tristan Thompson, who allegedly cheated on her:
Khloé's decision to stay with Tristan has definitely caused friction. Her family hasn't visited her for weeks. It's been hard for Khloé, but she is doing what she believes is best for her family.
On top of that, West and his wife Kim have been dealing with what amounts to a PR nightmare. Kim has recently been under fire for promoting appetite suppressing lollipops, while West has been making headlines for his erratic behavior and controversial opinions on social issues.
Despite rumors of real life family feuds and the weight of negative headlines on their shoulders, the Kardashian-Jenner family is still as close as ever. At least according to Khloé, who wrote on her app last week that she and her family have a bond that is not easily broken:
The KarJen women are all so incredibly strong and resilient. We all learn and support each other fully, and have such a love and desire to remain close … This is how I know our family bond will never be broken. I'm so proud to be part of our family!
All in all, it seems like any family feud the Kardashian-Jenner group is having is just a game! Can't wait to watch it!