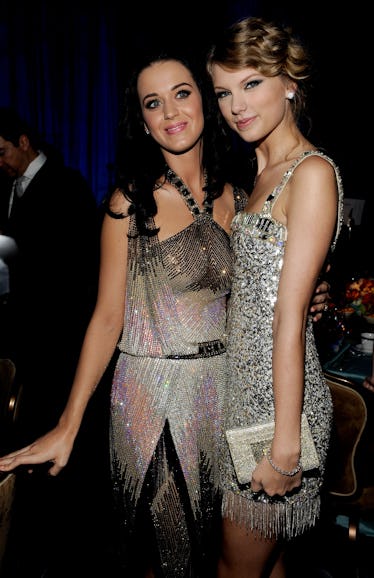 Katy Perry & Taylor Swift Have SO Many Friends In Common & We're Cringing
Larry Busacca/Getty Images Entertainment/Getty Images
Celebrity relationships and friendships are a rare breed. These famous faces have their lives played out in front of the masses, whether it's the good, the bad, or the straight-up shady. In Elite Daily's new series, It's Complicated, we're highlighting the biggest celebrity "feuds" that took over Hollywood and dominated our Sunday brunches for weeks on end. We'll take a deep dive into the lives and social media feeds of our favorite stars and dissect what happened in front of the camera, what went down behind the scenes, and everything you might have missed in between.
When it comes to celebrity friendships, it's a small yet complicated world. It's pretty much impossible to keep up with who is friends with whom this week and who's on the outs the next — though TBH, it's never stopped me from trying. But when you add up all the former besties, famous ex-boyfriends, and acquaintances who share the same complicated relationships, you're left with a seriously confusing field made up of players who sometimes bat for more than one team. Case in point: While the two have been feuding for almost a decade, the list of Katy Perry and Taylor Swift's mutual friends continues to grow. So awkward. I mean c'mon, guys, choose a lane!
It all seems like it started with John Mayer, whom Swift and Perry both dated — the former from 2009 -2010, and the latter from 2012-2014. And while there was never any bad blood over Perry hooking up with Swift's ex-lover to form this wild A-list love triangle, the coupling marked the first time the two stars had a friend in common. Yes, I'm using the word "friend" loosely here, but just go with it. Anyway, it's kind of cool that Perry and Swift didn't let a guy get in the way of their then-budding friendship, but plenty of other things did. And now, even though it seems that the two are far from ever being friends, or even friendly, it's unbelievable that they share so many sidekicks.
Let's take a look.
1. Karlie Kloss
Kloss has been a member of Swift's infamous girl squad for years, but that didn't keep her from grabbing dinner with Perry recently. In a photo published by TMZ in February 2018, Kloss and Perry were seen dining in Los Angeles with some of their own mutual friends, including writer Derek Blasberg and jewelry designer Jen Meyer.
The outing came on the heel of rumors that Kloss and Swift's friendship was on the outs. But Kloss seemed to shut that gossip down in December 2017, when she wished Swift a happy birthday on Instagram.
2. Selena Gomez
Gomez is another girl squad member who sent Swift a birthday message on Insta.
"I'm glad you were born," she wrote. "You write all the thoughts some aren't able to articulate. (ME!) Thank you for giving a voice to this world that is authentic and inspiring. I wish some knew how big your heart actually is.. it's fierce, bold and freaking wild with light. I'm glad you protect that. Love you @taylorswift."
Super sweet, right? But Gomez is also tight with Perry. After starring in Taylor Swift's "Bad Blood" video, which is rumored to be about Swift's hot and cold relationship with Perry, though Swift has never confirmed that, E! News reported that Gomez told New Zealand radio's The Edge Afternoons:
I love Katy ... I just talked to her. She's amazing.
3. Lorde
Lorde and T. Swizzle have been friends since around 2013, when the pair first hit up a Shake Shack together, and the two have been posting pics with each other on social media ever since.
But in an interview with New York Times Magazine in 2017 about songs that have played an important role in her life, Lorde pointed to Katy Perry's "Teenage Dream."
"When I put that song on, I'm as moved as I am by anything by David Bowie, by Fleetwood Mac, by Neil Young," she explained. "It lets you feel something you didn't know you needed to feel. There's something holy about it."
A pretty ringing endorsement, don't ya think?
4. Ed Sheeran
Sheeran's friendship with Tay Tay dates back to around 2012, when the two wrote a bunch of songs together, including one for Swift's album Red. Swift later tapped Sheeran to be the opening act for the North American dates on her 2013-2014 tour, and it's basically been a BFF fest from there.
But then a curious thing happened on the way to the 2017 Brit Awards. Perry was giving a pre-award show interview to BBC Radio 1, and Sheeran decided to hilariously crash it!
"Oh babes! Hi babes," Perry exclaimed when she heard that Sheeran was there. Then she gave him a big ol' hug, and two of them actually had some pretty major chemistry going on. Watch:
I don't know if Swift has ever seen this clip, but I could for real watch it all day.
5. Lena Dunham
The former Girls star was besties with Swift for years — Lena's ex- boyfriend, Jack Antonoff, co-wrote four hits on 1989. But after Dunham and Antonoff split, he reportedly started dating Lorde (Lorde has said they are just friends), which apparently put a wedge right in the middle of the Swift-Dunham friendship.
But even before the whole Lorde debacle ruined the lovefest between Swift and Dunham, Dunham was spotted looking buddy-buddy with none other than Perry at the 2017 Human Rights Campaign Gala in December.
And Perry even named one of the sneakers from her new shoe collection "The Lena," after the former Girls star.
TBH, I totally want to cop a pair of those babies.
6. Ellie Goulding
The "Love Me Like You Do" singer is another longtime friend of Swift's who appeared in the video for "Bad Blood."
And yet she's also been known to pal around with Perry — and she doesn't think there's anything wrong with that. After fans made a big deal about her posting and then quickly deleting a pic of her with the "Firework" singer on Instagram, speculating that it was due to her friendship with Swift, Goulding had this to say about it at the Glamour Awards in 2015:
"I deleted that because I looked bad in it," Goulding explained. "And I think I was a bit drunk. And I thought it wasn't a very good example of myself. That's so funny that, um, that's even a thing. I delete things all the time! I'm great friends with Katy, I'm great friends with Taylor. I just looked terrible in it. I zoomed in on my actual photo, and I was like, 'no.'"
Celebrities, they're just like us!
Seriously, though — I think it's pretty cool that Swift and Perry's friends haven't felt the need to pick a side, despite the fact that there still seems to be so much bad blood between the two pop stars. Band-Aids may not fix bullet holes, but these squad members are living proof that just because two people in your life have a complicated relationship, it doesn't mean you can't have mad love for both of them.