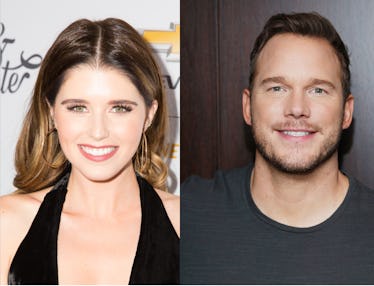 Katherine Schwarzenegger & Chris Pratt's Relationship Timeline Reveals A Lot
Getty Images
While 2018 had its fair share of quick celeb engagements, it's starting to look as though 2019 might be giving it a run for its money. That being said, it's important to note that all of the impromptu celebrity engagements aren't quite as sudden as they seem. For example, one look at Katherine Schwarzenegger and Chris Pratt's relationship timeline reveals a lot about how serious the duo has been from the very start.
If you're wondering what the heck I'm even referring to, let me give you some backstory. Chris Pratt just took to Instagram earlier today (Jan. 14) to announce that he's officially engaged to Katherine Schwarzenegger, author of three books and daughter of Arnold "The Governator" Schwarzenegger and Maria Shriver.
The two have kept a relatively low profile since they first started dating so, for many fans, the announcement came as a bit of a shock. If you are one of those fans, don't worry! I've created a very detailed timeline below that will help put the couple's engagement into a little more context.
Honestly, after reading through this whole thing, I have a feeling we're all going to be rooting for Schwarzenegger and Pratt. Yes, their romance is somewhat brief, but you can definitely tell the two have been pretty serious about each other from the start.