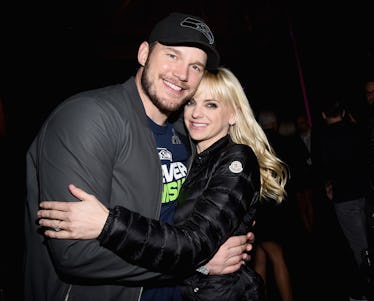 How Chris Pratt & Anna Faris Spent Their Halloween Together Is Definitely Unconventional
Michael Buckner/Getty Images Entertainment/Getty Images
Chris Pratt and Anna Faris are doing everything they can to co-parent their son, Jack, in the most positive way as possible. And that includes being super unconventional. After splitting up in August 2017, Faris and Pratt have gone their separate ways. But that doesn't mean they've disappeared from each other's lives entirely. In fact, Chris Pratt and Anna Faris spent their Halloween together. And their current partners were part of all the fun! Elite Daily reached out to Faris and Pratt's teams for comment, but did not hear back by the time of publication.
While taking their 6-year-old son Jack trick-or-treating on Halloween, Pratt and Faris also enjoyed a double date. Pratt brought his girlfriend Katherine Schwarzenegger along to hang out with Faris and her boyfriend Michael Barrett. In photos obtained by TMZ and published on Thursday, Oct. 31, the two couples looked super happy to be dressed up and out with each other. So, as unconventional as the situation may seem, it looks like it's totally normal for this little family. You can see the photos of their Halloween outing here.
As you'll see from the photos, Pratt and Schwarzenegger were dressed as vikings. Faris was Snow White and Barrett dressed up as Khaleesi from Game of Thrones. Little Jack was dressed in a very sleek ninja costume. Everyone was all smiles during the outing and at one point, Pratt and Schwarzenegger shared a kiss. All that said, this is a very modern family situation, indeed!
Pratt and Schwarzenegger began dating back in June 2018, while Faris and Barrett started their romance way back in 2017. So, these relationships are still relatively new, but it seems like Pratt and Faris are committed to making life as normal as possible for their son Jack.
A source close to the situation told Entertainment Tonight that Pratt and Faris are very "respectful" of each other.
"Anna and Chris have always maintained a respectful relationship after breaking up," the source explained to ET. "From the beginning, their main focus has been their son, Jack. Anna and Chris support each other in their new relationships and want one another to be happy."
That source also explained that Halloween was a very special day for everyone in the family.
"Halloween together was special, but many more holidays in the future will be spent like this," the source said.
So, I suppose that means that Halloween was a huge success. That may also mean that Pratt, Faris, Schwarzenegger, and Barrett have all struck a balance that makes family time more enjoyable. And that is such a wonderful thing for little Jack!
Back in April 2018, Pratt said in an interview with Entertainment Weekly that he and Faris are always keeping Jack top of mind.
"At the end of the day, we've got a great kid who's got two parents who love him very much," Pratt said during the interview. "We're finding a way to navigate this while still remaining friends and still being kind to one another. It's not ideal, but yeah, I think both of us are actually probably doing better."
Well, it seems like they've found a way to work through all this that works really well for them!