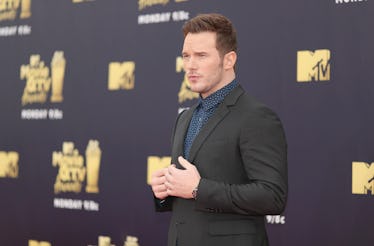 Chris Pratt May Be Moving On From Anna Faris With This Celebrity & I Am So Shook
Christopher Polk/Getty Images Entertainment/Getty Images
It's been almost a year since Chris Pratt and Anna Faris announced that they were separating. And it's been only a few months since their divorce was finalized. In spite of that painful situation, Pratt seems to be moving on... and with a gal a decade younger than he is. So, who's the girl in question? Katherine Schwarzenegger, daughter of Arnold Schwarzenegger and Maria Shriver. Pratt and Schwarzenegger were spotted on a romantic afternoon picnic and that's leaving people with one question: Is Chris Pratt dating Katherine Schwarzenegger?
Well, it's definitely possible! The two were spotted out on Monday, June 18, in Santa Barbara, California, where they spent the afternoon eating and laughing and just having a great time. Elite Daily reached out to Pratt and Schwarzenegger's teams for comment but did not hear back by the time of publication.
In photos published by TMZ, Pratt, 38, and Schwarzenegger, 28, can be seen enjoying each other's company over a light picnic on a park bench. Judging by the photos, the whole affair seemed pretty casual. Both Pratt and Schwarzenegger were dressed down: Pratt was sporting jeans and a blue shirt while his gal pal wore black yoga pants and a matching sweatshirt.
Whether it was was a full-fledged date is probably up for debate. They could just be friends relaxing on a park bench and eating lunch, right? Of course.
The two appeared to be in deep conversation in some photos. In others, they were clearly cracking jokes. After they finished their picnic, the couple cleaned up and headed back to their car.
The picnic date comes just a day after Father's Day, which Pratt reportedly spent at church and with his 5-year-old son Jack. During a red carpet interview with ET at the MTV Movie & TV Awards, Pratt explained his plans for Father's Day:
Church and I'm gonna lay low and swim in the pool. That's what we're going to do.
Sweet! That seems to be exactly what he's doing. Even his date with Schwarzenegger was very low-key.
Pratt shares a son with ex-wife Faris, who he divorced earlier this year after an eight-year marriage. Back in April 2018, Pratt said in an interview with Entertainment Weekly that "divorce sucks," but he also saw it another way, too:
But at the end of the day, we've got a great kid who's got two parents who love him very much. We're finding a way to navigate this while still remaining friends and still being kind to one another. It's not ideal, but yeah, I think both of us are actually probably doing better.
So, it's all about their son Jack for Pratt and Faris, which is wonderful. In response to Pratt's interview with ET, Faris added her own two cents regarding their divorce in an interview with SiriusXM Hits 1:
We have a great friendship. We really do. And we always have. And yeah, it's always tough to envision your future as one thing, but I think there's a lot of love.
For the length of their marriage, Pratt and Faris were one of Hollywood's favorite couples. Fans and media outlets loved them so much that when they announced their separation, they received a bit of backlash for it, according to Faris:
Chris and I did talk about it. We got, like on the Twitter feed, yes like 'Love is dead' and 'relationship goals.' I think what we were also guilty of — although we had an unbelievable marriage and we have a great friendship now.
Although the marriage didn't work out for Pratt and Faris, it really seems like they're getting along great and have nothing but positive attitudes about the whole thing. Plus, they've both moved on. Faris has been dating for a while now. And now that Pratt may be moving on with a new lady, it looks like they're both headed in more fulfilling directions.