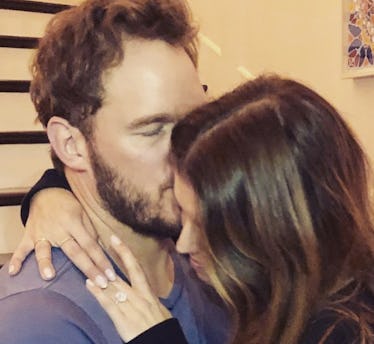 Chris Pratt & Katherine Schwarzenegger's Engagement Body Language Is SO Intimate
For those of you who may have thought 2018 was the year of the quick celebrity engagement, 2019 is officially here to give you a run for your money. While it feels like just yesterday that they announced their split, Anna Faris's movie star ex is officially moving on with his life. And Chris Pratt and Katherine Schwarzenegger's engagement body language shows that their engagement, while quick, isn't totally out of left field. The two are definitely super comfortable with each other.
"Overall they have a great thing going," shares Traci Brown, body language expert and author of Persuasion Point. "If my suspicions are right, they're doing their best to show that to the world with the pics they post. I think we'll see lots more great times from them."
Elite Daily asked Brown and Patti Wood, body language expert and author of SNAP: Making the Most of First Impressions, Body Language, and Charisma, to look at the two photos Pratt has shared of himself and Schwarzenegger: one that he posted in honor of her birthday back in December, and one that he just posted in honor of their recent engagement.
The two images say a lot about their relationship and give us a lot of intel into what their relationship is really is like.