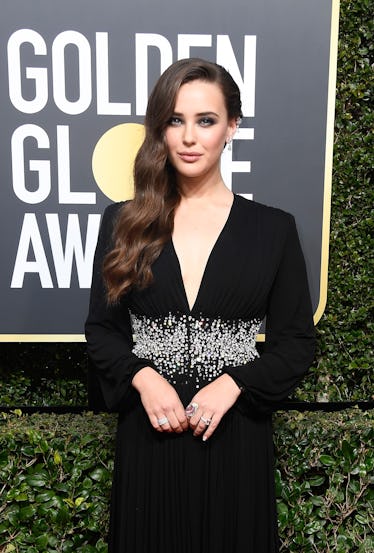 Katherine Langford Didn't Win A Golden Globe This Year & Fans Are Crying
Frazer Harrison/Getty Images Entertainment/Getty Images
Katherine Langford represented the 13 Reasons Why camp with the hit Netflix show's only nomination at the Golden Globes this year, but unfortunately, the teen drama's massive impact online did not translate to a trophy for its lead actress. Although she led 13 Reasons Why to become one of the most talked about shows of 2017 with her painful portrayal as suicidal teenager Hannah Baker, Katherine Langford did not win a Golden Globe at Sunday night's awards ceremony. But hey, it was only her first time being nominated, and she was up against some major-league competition, so she may very well get up on the Golden Globes stage in the future.
As Hannah Baker, Katherine Langford made a huge splash this year, helming the mega-popular new Netflix teen drama 13 Reasons Why. The show marked Langford's first major on-screen acting role, having just a couple small indie films under her belt before landing the part. After it premiered last March, 13 Reasons Why went on to become the most-tweeted show Netflix had ever aired, and quickly established itself as a touchstone of pop culture in 2017. But that fervent popularity didn't only come from fans — the show was also a source of controversy, as some viewers accused the series of glorifying suicide.
One of the youngest nominees at the Golden Globes this year, Katherine Langford definitely proved her place among her fellow Best Actress in a Drama nominees with a harrowing and unforgettable performance in Season 1 of 13 Reasons Why, but she lost out on taking home a Golden Globe to Elisabeth Moss for her critically-acclaimed lead role on The Handmaid's Tale, which came into the awards show as a clear favorite, after cleaning up at the Emmys. Langford was up against some incredibly stiff competition for the award, with her fellow nominees being the stars of some of the past year's biggest shows: Elisabeth Moss for The Handmaid's Tale, Claire Foy for The Crown, Maggie Gyllenhaal for The Deuce, and Caitriona Balfe for Outlander.
Elisabeth Moss used her winning speech to give a shoutout to Margaret Atwood, the author of the novel of the same name that her show, The Handmaid's Tale, is based on. Check out Moss' full acceptance speech from this year's Golden Globes below:
On the bright side for all of the fans who were pulling for Katherine Langford, she could have another shot at taking home a Golden Globe for 13 Reasons Why next year. Although Season 1 of the series ended with Hannah's suicide, the 13 Reasons Why team confirmed Hannah Baker will be back in Season 2. Just how Hannah may be back in the new season is still a mystery to fans, but it is most likely that, as in Season 1, Season 2 will heavily involve flashbacks and that Hannah will appear in those scenes.
Although she did not wind up taking home the big win for Best Actress in a Television Drama at the Golden Globes on Sunday night, she did show up at the awards ceremony looking incredible. Langford wore black in solidarity with the Time's Up movement, which set out to black out this year's Golden Globes to bring attention to the environment of sexual corruption that has been exposed in Hollywood this year. Langford wore a crystal-covered black gown and slayed the red carpet.
Fans will see Katherine Langford again when 13 Reasons Why returns for its second season this year. Although a premiere date for the show's second season hasn't been officially unveiled yet, the cast shared pics from a wrap party a couple weeks ago, so it should be coming to Netflix very soon.