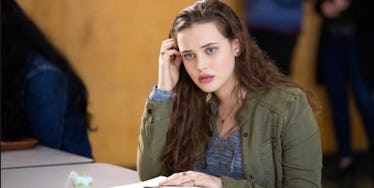 New Study Shows Suicide Internet Searches Went Up After '13 Reasons Why' Aired
Netflix
One of the most controversial TV shows of 2017 so far has also been one of the most successful. 13 Reasons Why created a huge social media boom when it premiered on Netflix at the end of March, quickly becoming the most tweeted-about show the streaming service had ever released. But not everyone was so happy to learn the teen drama was attracted hordes of young viewers — the series was also the subject of heated backlash for what some considered a glamorized portrayal of suicide. Now, a new academic study is even showing suicide searches rose after 13 Reasons Why aired by a significant rate.
A group of researchers published their findings in the JAMA Internal Medicine medical journal after analyzing search trends immediately following the release of 13 Reasons Why. The study looked at internet searches from March 31 to April 18, beginning on the day the series was released and concluding a day before the high-profile suicide of NFL player Aaron Hernandez in order to avoid data contamination. This was also the period in time during which a social media study revealed 13 Reasons Why was Netflix's most tweeted-about series ever.
The results of the research are disheartening. The researchers found searches for information on suicide rose 19 percent higher than was expected. Though Netflix and the creators and cast of the series have defended the show's portrayal of suicide as an uncomfortable but necessary conversation-starter, the new study finds search terms related to suicidal ideation rose much more than terms related to suicide awareness or prevention. For example, the term "how to commit suicide" increased in searches more than also-rising terms "suicide prevention" or "suicide hotline number."
The researchers conclude by pointing to past studies linking internet searches to real-life suicide trends, and surmising suicide rates were likely to have increased due to the series. Lead researcher John Ayers, professor of public health at San Diego State University, told the Washington Post he believes the show must be taken down in light of the results of his study. Netflix responded in a statement, saying the study confirms the series has increased public discussion of suicide, and the concerns will hopefully be addressed in the upcoming second season.
We always believed this show would increase discussion around this tough subject matter. This is an interesting quasi-experimental study that confirms this. We are looking forward to more research and taking everything we learn to heart as we prepare for Season 2.
The second season of 13 Reasons Why will be released on Netflix sometime in 2018.