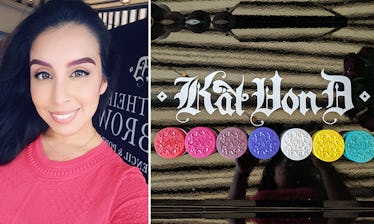 I Tried Rainbow Ombré Brows, Because Kat Von D Told Me To — EXCLUSIVE
Stephanie Montes
No matter how much black you wear, I'd be willing to bet some serious cash that your vanity is packed with neon eyeliners, bright lipsticks and colorful eyeshadows — after all, life is all about balance. But thanks to this brand new Kat Von D eyebrow pomade review, your brow collection is also about to get a burst of color. Because it's 2018 and anything is possible, right?
Your current brow products might run the gamut from light tans to deep blacks (if you're a true brow junkie), but that's about it. As it turns out, Kat Von D's new motto "to each their own brow," refers to much more than just thickness, shape, and length. The artist and beauty guru is encouraging makeup enthusiasts to play with color on the area we usually keep neutral: our brows.
The brand new collection (and the first full range of brow products from Kat Von D Beauty) consists of the Brow Struck Dimension Powder ($20), Powder Brow Brush #75 ($18), Beauty Pomade Brow Brush #70 ($18), and the 24-Hour Super Brow Long-Wear Pomade ($19; available in 16 shades, including a handful of super unexpected hues). To find out why I should be painting my brows in shades ranging from hot pink to sunshine yellow, I sat down with the brains behind the brand, Kat Von D herself.
Von D tells me that the inspiration behind the colored brow stemmed from social media. In a trickle-up effect, Kat found beauty junkies tagging the brand on Instagram with photos of them filling in their brows with her cult-favorite Everlasting Liquid Lipstick ($20; sephora.com). While she loved the creativity, Von D questioned how well the makeup hack worked. "That looks really cool on Instagram, but the product was designed for the lips and wasn't formulated to adhere to hair follicles," she says. "I always wondered what those eyebrows looked like by the end of the day."
Von D says she expressed to her team that there was a hole in the market, and women on Instagram had been seemingly trying to fill it. Even Kat Von D has played with colored brows, but it was always with a solid lipstick. She remembers pitching the idea to her team saying, "I think it's time to do some colored brows. Nobody has done it yet and clearly there's a desire for it."
When asked if she thought colored brows would become the biggest trend for summer, she tells me, "I've never been a fan of trends. I think they can be quite fleeting." She also adds, "I think it's a beautiful time to be alive in the beauty industry. I don't think [colored brows] will be a trend that's just going to go away. I think people will continue to express themselves in their hair color, or their brow color, or the way they dress. We've just evolved to this now."
The 24-Hour Super Brow Long-Wear Pomade is available in a total of 16 shades. Seven of those shades are completely natural, while the others are out of the box, including bright yellow, magenta, purple, blue, burgundy, red, teal green and a white (which is actually used as a mixing shade to create pastels and other hues). While I came into the interview thinking I'd never be able to pull off half of these colors, the more I talked with Kat Von D, the more I felt inspired to try the bright colors.
After my interview, I sat down with Tara Buenrostro and Leah Carmichael — Kat Von D Beauty Artistry Collective Global Makeup Artists — on Friday and decided to go for a bold color. I opted for an ombré in pink and burgundy. To create the look, Carmichael mixed white and magenta to create the perfect shade.
To create the look, both Global Makeup Artists tag-teamed my brows, filling in the front of my brows with the lighter shade (up until the beginning of my arch), then, working from the end, in, filling in my tails with the darker shade. Once both shades met in the middle, Carmichael and Buenostro blended the two together. And voilá, ombré brows.
And the best part is, I noticed Carmichael had a difficult time removing the swatch from the back of her hand, so 24-hour wear is definitely guaranteed.
The entire brow collection will be available on April 20, including the brushes and Brow Struck Dimension Powder, on Kat Von D's website and at Sephora's website.