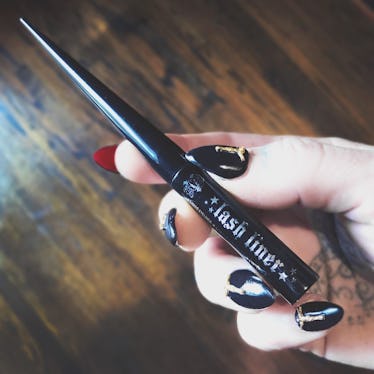 Kat von D Is Launching A Vegan Liquid Eyeliner That Doesn't Budge & I'm Crying Tears Of Joy
@thekatvond Instagram
In a world filled with makeup that can work wonders, one woman stepped up to the plate to go where no brand has gone before. Not only is she creating an eyeliner for our waterlines, but it's going to be vegan. When does Kat Von D's vegan eyeliner launch? First, if you read that in a Morgan Freeman or dramatic voice, you're my new best friend. Second, Kat Von D is coming in the clutch for all of us that stray away from waterline eyeliner.
For the life of me, I can't wear waterline eyeliner, which sits on the inner lining of the eye instead of the outside. Even though I want that ultra-smoky Kate Moss effect, my eyes always work against me. I'm currently having traumatic flashbacks of coming home from a night out, having panda eyes, and praying one day I would get it together. Looking in the mirror and questioning why your waterline looks tragic, instead of like a beauty guru, is enough to humble any of us.
Kat Von D, the superwoman of makeup, is here to save the day. Instead of decking us out in superhuman gear, she's making our waterlines invincible. Her new product is a vegan, long-wear liquid eyeliner. If that wasn't enough to make me yell hallelujah, it was formatted specifically for our waterlines. Say goodbye to panda eyes, my friends.
Kat Von D's captions states: "I know I should wait to announce this, but I just got the first final prototype for the upcoming @katvondbeauty LASH LINER and I'm just so fucking excited! I've been working on this formula for years and it's finally real! This is the FIRST EVER LONGWEAR LIQUID #VEGAN FORMULA - created specifically for your inner rim lash line. The formula is applied wet, and dries down to the most budge-proof opaque black.🖤 Follow@katvondbeauty for release dates!#comingsoon #katvondbeauty #lashliner"
Being the rebel she is, Kat Von D doesn't care if she has to deal with her head office at a later date. I love that she snuck onto Instagram to give her fans an inside scoop on what she's been up to. At first, I was a bit distracted by her black talons, but after processing her caption I couldn't help but get excited.
This is something I didn't even know was possible, but I already need. Von D is already sweeping the competition with her vegan makeup products. A waterline eyeliner that will actually stay on my waterline though, is so major. I'm blissfully imagining a world where I don't have to lie to my friends that I'm trying out a Wednesday Addams look for the night. Even though she's #goals, I'm more into clean and precise makeup.
Right now since the eyeliner is in its first final prototype stage, the official launch hasn't been released. By the looks of that dark, sharp line though, I don't think fans are going to have to wait that long. I mean seriously, that looks ready to be packaged and sold immediately. No rush KVD, even though I'm impatient, I think the real test will be the humid heat this summer.
In the meantime I'll be waiting to see what the Kat Von D Beauty Pro announcement is on March 1.
If you need something to look forward to now, instead of counting down the days, I recommend you check out the Kat Von D Basket Case Anti-Precision Eyeliner ($19, sephora.com). The eyeliner was inspired by Billie Joe Armstrong, the lead singer of Green Day. Armstrong is known for his rock-n-roll glam with sexy, smoldering eye makeup, so KVD wanted to create a chubby pencil that delivered an ultra-black pigment. Since the formula is soft and malleable, you can build, blend, smudge, and smoke out your eyes to your desired effect.
Just like Armstrong sang in "Basket Case," "I am one of those melodramatic fools, neurotic to the bone," so I'm going to spend the rest of the day listening to emo music and dreaming of a smudge-less waterline.