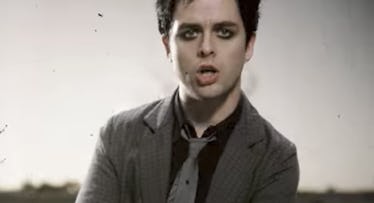 You're Not Just Paranoid: Kat Von D & Green Day Are Coming Out With A 'Basket Case' Eyeliner
YouTube
Do you remember where you were the first time you were attracted to a man wearing eyeliner? I do. I heard the music coming from my TV set in high school, and looked up to see the "Boulevard of Broken Dreams" video and Billie Joe Armstrong's black-lined green eyes on full display. I think that was honestly the moment I became a woman. Almost 10 years after that moment, in, perhaps, the most on-brand move ever, Kat Von D beauty and Green Day's lead singer, Billie Joe Armstrong have collaborated to launch a Green Day-inspired eyeliner — worthy of punk smears and emo tears. This pairing is not personally one I ever thought I needed, but now that I know it's available (or will be soon!), my black nail-polished hands can't get hold of it fast enough.
Kat Von D beauty initially teased the liquid eyeliner on the brand's Instagram stories. According to Bustle, the Kat Von D beauty Instagram page featured images of the eyeliner, along with the caption, "Yes it's really happening and yes it's going to be good." At first glance, the eyeliner looks like any other ink liner in Kat Von D's collection. The tattoo artist turned beauty guru is known for her "ink liners," which are supposed to be so black and stay put so well, they resemble blank-ink tattoos. (I can personally attest to this, as I've been a huge fan of her ink liner in "trooper" since it debuted in 2008.) But if you look closely, you'll notice the tube is very Green Day-specific.
The cap appears to have Billie Joe's signature on it, while the eyeliner spells out "Basket Case" in Dookie-themed lettering. ("Basket Case" is the name of a song on Green Day's 1994 breakout album, Dookie, in case that totally flew over your head.)
As soon as the teasers dropped, including some ambiguous AF pics of Kat and Billie together on their Instagram pages, fans immediately freaked out, and rightfully so. It appears the only GD-inspired piece will be the eyeliner, as there have been no hints as to whether or not it will be a multi-piece collection. But now, just a few weeks after the initial tease, we have a release date. According to Kat Von D beauty's latest Instagram post, the eyeliner will launch in early January 2018.
Kat Von D is calling this eyeliner, "the anti-precision eye pencil," according to her caption. This is definitely a step in the opposite direction of her usual eyeliners, known for their super sharp application point and waterproof formula. But this revamp makes so much sense for a collaboration with Billie. It's definitely not punk to have your eyeliner perfectly in-tact, and Billie is the queen (yes, queen) of the sexy smudge.
The "Basket Case" Kat Von D eyeliner appears to be in a thicker tube than her usual liners, and the applicator resembles a crayon, with a wider base that seems to lead to a messier application.
Kat Von D beauty's Instagram also warns that this will be a super limited-edition collab, so make sure you mark your calendars if you're still just nothing but an emo kid who's ever-nostalgic for the golden era of music that were the early aughts.
January cannot come soon enough. I can't imagine what my younger self would have done with the news of this collab, but I'm glad I am not fully out of my punk phase (Does it ever really leave you?) and will most definitely still be enjoying this look inspired by my all time favorite celeb crush, Billie.