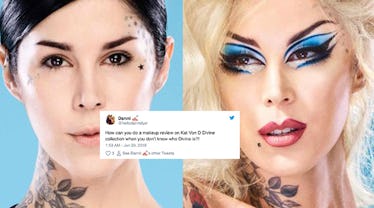 Kat von D Just Dropped A Sick New Makeup Collaboration, But People Are Confused About This
Kat von D Beauty/hellodannidyer on Twitter
Fresh off her Basket Case Anti-Precision Eyeliner collaboration with Billie Joe Armstrong, Kat von D has created another collection inspired by a less mainstream icon (one I personally love and adore), and people are... confused, to say the least. The Kat von D x Divine makeup just dropped, right in time for Valentine's Day, but makeup lovers everywhere are having a time with the launch. Of course, some drag aficionados are rejoicing and basically throwing fistfuls of cash at their computer screens. Others feel that the collection didn't capture Divine's one-of-a-kind essence. Some don't even know who Divine is.
The Kat von D Divine collection has just barely launched, and already people are having feels with the release. The collab includes a semi-neon Kat vond Dx Divine Eyeshadow Palette and a green-stud encased Kat Von D x Divine Studded Kiss Crème Lipstick. The palette has really been the focus of most Tweets and comments thus far. The front of the palette depicts Divine's iconic eye makeup, including her graphic and angular eyeliner and easily recognizable cut crease (back when cut creases were not really a thing, might I add). Inside, the shades are named after Divine-related places and things, like Waters, named for John Waters, and Pink Flamingo, named for the movie Pink Flamingo of course.
Kat Von D x Divine Studded Kiss Crème Lipstick, $19, Kat Von D Beauty
The palette includes a cream, a white, a silver, a grey, a black, a neon green, and two different blue hues. The inner mirror also depicts a silhouette of Divine's thin, arched brows.
Kat Von D x Divine Eyeshadow Palette, $38, Kat Von D Beauty
The nude lipstick comes in Kat von D's recognizable studded packaging, but, this time, it's in a limited-edition, Nickelodeon-esque slime green hue. The lipstick inside is a very saturated, pinky nude hue in the new KVD Beauty Crème formula.
Of course, many Twitter users took to the interwebs to express their excitement over the launch. This Grumpy Gal just expressed what we single beauty lovers have been feeling for weeks.
Sometimes, excitement may only be properly expressed through a gif of Divine.
Ben gave us a play by play of the financial struggle. For those who love Kat von D, Divine, or both, this limited edition palette is simply a must have.
Of course, when you release a product honoring a late, great, and widely beloved icon, fans of the star will have strong opinions on whether or not the item actually does the deceased justice. Because the star unfortunately isn't around and cannot show their excitement for the collection, beauty lovers are left to decide whether the collaboration is worthy of the celebrity.
Some Divine stans expressed that they wished the palette contained a neon pink or a glittery red (most likely a nod to Divine's red Pink Flamingo's dress).
However, the palette contains the hues that Divine actually wore in the majority of her recognizable looks: silver, blue, grey, white, and black.
Sometimes, Divine did wear pink and purple hues, but she mostly stuck to greys and the occasional powder blue in her most popular films. The green, admittedly, is a little random when you look at Divine's makeup history, but it does express Divine's essence (and does harmonize with the rest of the hues more than a red or a pink would). That's the struggle when you create a piece that honors someone so known for their legendary beat. Should you choose they hues they would wear themselves, or should you pick the shadows that would represent their personality? There's really no right or wrong answer.
Many Divine lovers are also afraid of how many people will be purchasing this palette without knowing who Divine actually is.
I mean, it is a legitimate concern.
However, I see this release as a great opportunity to educate a younger generation on the drag queen that shattered expectations and shaped the drag culture of today.
If you are here for this palette and/or lipstick (so much so that you'd be willing to eat dog poop to get your hands on it), then head over to the Kat von D Beauty website and snatch up this collaboration before it's gone for good.