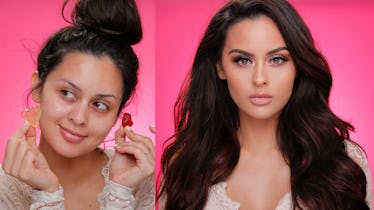 12 Makeup Looks For Valentine's Day That Don't Involve A Red Lip
V-Day is on its way. Drugstores are already lined with outlandishly large bears and gigantic chocolate-filled hearts to put every sweet tooth into a sugar coma. If you're searching for the perfect glam, but don't want to be *that* cliche, here are 12 makeup looks for Valentine's Day that don't involve a red lip. There's very little time left and, trust me, you don't want to look just like every other queen in your chosen romantic candle-lit restaurant. You'll want to stand out like the diamond you are, not fade into the sea of scarlet lips.
Wearing a red lip on Valentine's Day is... understandable. It's classic. It's romantic. However, it's also predictable as hell. It's the obvious choice that all the beautiful biddies will be choosing to rock come Feb. 14. If you want to step outside of the chocolate heart box and try something a little bit more untraditional, then opt for one of these 12 looks instead. Plus, have you ever tried to make out with your SO while wearing a red lip? It ends up looking like a murder scene. Remember, red lipstick doesn't come out that easily from clothing, people! So why not skip it all together?
All Over Hue
Instead of opting for a bright red statement lip, why not create a soft brick monochromatic look by washing the same muted shade over your lids and your pout. This look still brings the Valentine's day hues, but in a much more unique way.
Sexy Flush
Glossy natural light pink lips will be perfectly flirty and appropriate on Feb. 14. Seriously, your date will be mesmerized by your mouth. The matching glittery eye and pink cheek only add to the soft sweetness of this look.
On Wednesdays We Wear Pink
If you want your eyes to shine, why not give this neon pink cut crease a try? It's bold, yet romantic. If you want your eyes to look super bright and shiny for your date, don't forget to add a little white eyeliner to the bottom waterline. An iridescent glossy lip is right on trend, but lets the eye be the focal point of this look.
Mauve Please
If you don't enjoy wearing anything too bold, then an allover soft wash of mauve-tinged mood might be right up your alley. It's clean and perfected, but not crazy out-there.
Neutral Territory
Glowy skin, shimmery eyes, and creamy lips let texture rule in this Christen Dominique tutorial. Nothing says angelic quite like all-over luminosity.
Smoke Show
Valentine's Day makeup doesn't have to be pink and red to scream romance. Sometimes, the right amount of smoke around the eyes will give off seductive vibes more than any red lip ever could.
Pop It
If you're a well-seasoned makeup expert, you might be up to this blending challenge. You'll definitely be the star of your date's eye with this shiny pink halo confection.
Peaches and Cream
Why not switch it up this Valentine's day by using peach hues allover. Peach is just as sweet as pink, and definitely a lot more sophisticated.
Say It In Stone
This simple rhinestone-bedazzled eye and glossy lip combo is trend-setting. It's subtle, but totally unique.
All That Glitters Is Gold
Instead of a red lip, why not focus on a soft pink lip instead? Gold glittery lids elevate the look and make it party-ready.
Yes Way Rose
If you're going to be sipping bubbly all night, why not pair it champagne hues on the eyelids as well? This soft, shimmery look will emphasize your natural beauty, not distract from it.
Queen Of Hearts
If you're extra AF, then this heart-freckled festive look is worthy of your dramatic wiles. Everything is bold: the lips, the nose highlight, the neon eyes, and the heart embellishments. No one will accuse you of forgetting what day it is.