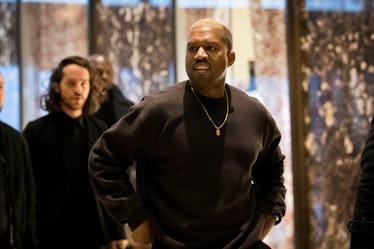 Kanye West's Lyrics About "Smashing" The Kardashian Sisters Will Make You Wonder
Drew Angerer/Getty Images News/Getty Images
Ever since I first jammed out to the "clean" version of "Gold Digger" way back in 2005, I've been a pretty big fan of Kanye West's music. And although I usually tend to gravitate to more of his old stuff (aka College Dropout), I always make a point to listen to any and all tracks that the Grammy award-winning hip hop artist drops. Most recently, on Aug. 11, the Graduation rapper released a yet another new tune, and although it's pretty catchy, Kanye West's "XTCY" lyrics call out the Kardashian sisters in the most vulgar way possible. Take a listen, and you'll know exactly what I'm talking about.
The opening of Kanye's latest track, "XTCY" is pretty interesting. It starts off with a trippy medley string instruments and what sounds like a few different vibey synths. The instrumentals are followed by someone repeating "ecstasy" over and over, which leads up to the start of Kanye's first verse. I'm warning you, what he says about his wife Kim Kardashian West's sisters in the opening lines may shock you, so prepare yourselves.
According to Genius.com, Kanye's first verse in "XTCY" says,
You got sick thoughts? I got more of 'em. You got a sister-in-law you would smash? I got four of them. Damn, those is your sisters? You did something unholy to them pictures. Damn, you need to be locked up. Nah, we need a bigger hot tub
Listen to the song to get a little more context. So. Dang. Weird.
My first question is: How does Kim K feel about any of this? If it were me, I'm not totally sure how I'd feel about Kanye wanting to "smash" all four of my sisters, TBH. My second question is: What do Kourtney, Khloé, Kendall, and Kylie think about Kanye's somewhat disconcerting lyrics? Is everyone just going to ignore the fact that he "did something unholy to them pictures?" Or the fact that they "need a bigger hot tub?" Yikes, I'm not even involved, and I'm extremely uncomfortable.
In the song, according to the lyrics on Genius.com, Kanye explains that he "thought of all this on ecstasy," so maybe he doesn't always feel this way, on a regular basis. I'm just tossing ideas out here, people. Later on, though, he says "we gonn' score 100 on this drug test," so who really knows if this was a drug-induced attraction, or if he's just making up excuses for having romantic feelings towards Kim K's sisters? This is seriously making my brain hurt, and I don't even know what the Kardashian-Jenners think about any of it. On the bright side, he brings "Whoop-Di-Scoop" back at the end, so at least there's that.
"XTCY" was released in the early morning hours of Saturday, Aug. 11 on DJ Clark Kent's Twitter account. Pervious to that, Kanye dropped his album, Ye, on June 1, 2018. There were also plenty of eyebrow-raising lyrics discovered with that release, including the track, "Wouldn't Leave," that revealed Kim's reaction to Kanye's infamous slavery comments on May 1 of this year.
As an amateur Kanye aficionado, I will say that the rapper can be incredibly hard to read sometimes. He seems to often says things he doesn't really mean, especially if it'll turn heads. However, this has to be super awkward for everyone involved, especially in relation to the loving relationship he has with Kim. I guess nobody will ever really know, though.