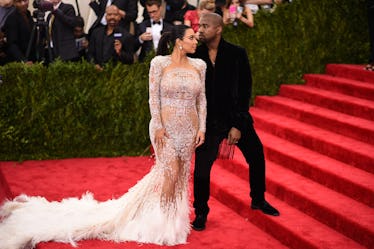 Kanye West Did The Sweetest Thing For Kim Kardashian's 38th Birthday
Andrew H. Walker/Getty Images Entertainment/Getty Images
Happy (almost) Birthday, Kim K! The makeup mogul turns 38 on Oct. 21 and she's likely going to receive nothing but love from fans and celebrities alike. But her hubby Kanye West has arguably made the biggest, most romantic post in honor of the KKW Beauty star already. I'm just saying — IDK if you're going to see anything that will top Kanye West's gifts Kim Kardashian for her 38th birthday.
It's no secret that the "Monster" rapper is a true romantic at heart. From his over-the-top proposal to his Valentine's Day collages, West often goes above and beyond with sweet gestures in honor of his lady. But he really outdid himself this time. On Saturday, Oct. 20, West kicked off the birthday festivities early, surprising Kardashian with a series of colorful flower arrangements and a lovely serenade by a pianist. He shared the moment on Twitter with a direct message to his wife. "You're stunning," he wrote to Kardashian. "I will keep trying to make things that can express how beautiful you are inside and out and how much I love you and our family," West continued.
Kardashian responded by posting the moment on her Instagram, decorating the clip with multiple heart emojis along with a lovey-dovey message to her beau. "Love you so much babe," she exclaimed.
West may be causing national furor over his plunge into conservatism and his support of President Donald Trump, but at least the man knows how to give a gift. He further proved that back on Mother's Day, when he presented Kardashian with a present out of this world.
The mom-of-three opened up about what West gave her on Ashley Graham's podcast, Pretty Big Deal in early October. According to Kardashian, it was inspired by a million dollar offer that a brand — which she declined to name, though she said it "typically [knocks] off Yeezy" — made her for a sponsored Instagram post. Kardashian said that she decided to consult her husband about the offer before making a decision, but West apparently wasn't all that excited at the idea of her supporting a company that rips his ideas, so he tried to coax her out of doing it. "Understandable," Kardashian said, "but that's a lot of money." In the end, however, she told Graham that she declined the offer in support of her husband. And she was generously rewarded for it.
Some time later, when Mother's Day rolled around, Kardashian was gifted with a $1 million check, along with a sweet note from West that said, "Thank you for always supporting me and not posting." West also gave Kardashian a contract for a percentage of Yeezy, making her his business partner in the fast-growing company. Life partners and business partners? It doesn't get much cuter than that.
Seems like West is doing everything he can to keep up with the "happy wife, happy life" idea, and it looks like its working in his favor. The rapper previously expressed that he feared Kardashian would leave him following a series of controversial moments this year, including one in May when he told TMZ that slavery was a "choice."
"There was a moment where I felt like after TMZ, maybe a week after that, I felt like the energy levels were low," he explained to The New York Times in June. West revealed that he even went to their family members for answers on whether Kardashian was considering splitting up. "I called different family members and was asking, you know, 'Was Kim thinking of leaving me after TMZ?' So that was a real conversation," he explained.
West seems to really be putting in the effort to ensure that Kardashian sticks by his side, kicking up the romantic gestures higher and higher for every occasion, and I bet Kim is loving each and every moment.