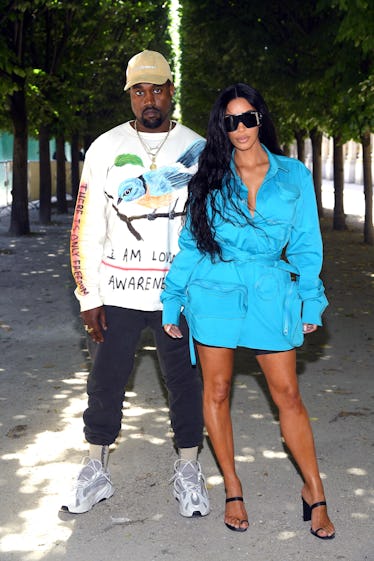 Kanye West's Mother's Day Present For Kim K Was So Outrageous, Which Shouldn't Shock You
Pascal Le Segretain/Getty Images Entertainment/Getty Images
Kanye West may be grinding people's gears with all his talk about politics and support for Donald Trump, but one person who still loves him unconditionally is his wife Kim Kardashian. And there's a good reason for that. Not only is West a loving father and husband, but he's an exceptional gift-giver. And nothing proves that more than Kanye West's Mother's Day present for Kim Kardashian.
On the debut episode of Ashley Graham's podcast, Pretty Big Deal, Kardashian gushed about her husband and what he chose to give her for Mother's Day. Apparently, West's incredible gift was inspired by Kardashian's sponsored Instagram posts. Or perhaps, I should say, the gift was given to Kardashian in lieu of a sponsored post.
In any case, Kardashian explained the whole situation to Graham on her podcast.
"For Mother's Day, he's like the cutest," Kardashian started. "So, a brand offered me a million [dollars] to do a post and they... typically knock off Yeezy. So, I said, 'You know what, it's great money. Let me ask Kanye how he feels about it.'"
As you can imagine, West wasn't thrilled by the idea of his wife supporting a brand that steals his ideas. So, what was his reaction? Well, he tried to coax his wife out of doing it.
"He's like, 'No babe, I really don't want you to do that,'" Kardashian explained. "Understandable, but that's a lot of money."
Luckily for West, Kardashian decided to take a step back and support her husband instead. And, according to Kardashian, she was handsomely rewarded for it. Some weeks later, when Mother's Day rolled around, West sent flowers and a mysterious envelope to Kardashian.
"So, I open the envelope and it's a million dollar check," Kardashian revealed. "And there was a note, saying, 'Thank you for always supporting me and not posting.'"
But a million dollar check wasn't all Kardashian received for Mother's Day. She's also got ownership in Yeezy, which further incentivized her to stay away from supporting brands that snag ideas from her husband.
"In the rest of the envelope, there was a contract to be an owner of Yeezy — to have my percentage," Kardashian said. "That was my Mother's Day present."
That is quite a Mother's Day present, indeed. And it seems to have gone a long way, too, because Kardashian recently showed her total support and loyalty to her husband. During an appearance on Saturday Night Live, West went on a tangent about the president, politics, and the state of the media. While most people were appalled at the speech, Kardashian reportedly hung back and watched on as calmly as possible.
According to an Oct. 1 report from People, a source revealed that Kardashian was seemingly supportive of how her husband chose to use his platform.
"While Kanye talked Kim just stood in the back and watched. The kids were there, too," the source said. "She didn't seem like anything, she was just watching. Trump's been good to them so it seems they do really love him, even Kim. They all hung out for a bit afterward."
Obviously, Kardashian and West are committed to each other regardless of how the public views them. True love!