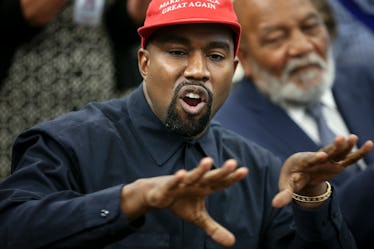 Kanye West Designed A New Clothing Line That Aims To Get Black Voters To Ditch Democrats
Pool/Getty Images News/Getty Images
Kanye West has collaborated on the release of a new line of clothing aimed at encouraging black voters to stop supporting the Democratic party. Kanye West's "Blexit" clothing line design just debuted. The site's mission statement says that "Blexit" — a name which takes a page from Brexit's book by combining "black" and "exit" — is "a frequency for those who have released themselves from the political orthodoxy." The statement continues, "It is a rebellion led by Americans wishing to disrupt the simulation of fear. BLEXIT is a renaissance. It is our formal declaration of independence." Elite Daily reached out to West's team for comment but did not hear back by the time of publication.
UPDATE: Kanye West denied any involvement with the Blexit campaign and renounced politics in a series of tweets on Oct. 30, writing, "I introduced Candace to the person who made the logo and they didn't want their name on it so she used mine. I never wanted any association with Blexit. I have nothing to do with it." In a followup tweet, he revealed he's been used to traffic political ideas that aren't his own, writing, "My eyes are now wide open and now realize I've been used to spread messages I don't believe in. I am distancing myself from politics and completely focusing on being creative!!!"
PREVIOUSLY: Conservative commentator Candace Owens is one of this brand's leaders. She revealed in an article written for Breitbart that the recent trip to Uganda that West took with herself and Kim Kardashian inspired West to create the logo for the Blexit site and merchandise. West's designs on the website are images of people spelling out "Blexit" with their bodies, along with the "WE FREE" logo featured on some of the movement's merchandise. In total, the website has seven different pieces of merchandise available for purchase, a majority of them featuring West's designs. Elite Daily reached out to Owens' team for comment on Blexit and West's involvement, but did not hear back by the time of publication.
The rest of the site includes testimonial videos from black Americans explaining their decisions to "Blexit," aka leave the Democratic party, as well as a section called "Truths," where visitors of the site can look through a catalog of articles and videos (created by other outlets, not the Blexit coordinators themselves) that the site's coordinators feel accurately represent the information they want the viewers to consider. The links are labeled as "Inconvenient Truths," and include links to articles/videos about President Barack Obama, Hillary Clinton, Jim Crow laws, and more. Historian and author Kevin Kruse said in a tweet on Oct. 29 that the first three "inconvenient truths" on the site are "pretty much a lie," and goes on to detail exactly why in a 22-tweet thread.
This is the Blexit merchandise featuring West's designs.
The line debuted at Turning Point USA's Young Black Leadership Summit in Washington, D.C. on Saturday, Oct. 27, according to USA Today. Owens is the communications director of the event. During the summit on Saturday, USA Today reported that Owens announced West's involvement in the design of the "Blexit" merchandise. "Blexit is a renaissance," she said to the crowd, "and I am blessed to say that this logo, these colors, were created by my dear friend and fellow superhero Kanye West."
West has been publicly voicing his conservative beliefs for months now, with his most recent controversial comments occurring during his meeting with President Trump at the White House on Oct. 11, when West reaffirmed his support for Trump and implied that he sees him as a father figure. Elite Daily reached out previously to West's team previously for clarification on his comments, but did not hear back by the time of publication.
Kris Jenner recently commented on West's controversial comments and political beliefs. In an interview with Ellen DeGeneres that aired on Friday, Oct. 26, Jenner said his meeting at the White House was "spontaneous" and that his recent comments are apparently a side of him she has not seen until this point. "He definitely has his own thoughts and opinions and he gets very excited about that," she said. "You've known him a long time, I've known him a long time. He does have different sides to him and this is a side no one has seen before."
She went on,
It's a lot. Kim always says, 'I can't control what somebody else does,' and I feel the same way. It's really hard. You all know if you have kids and they might have a totally different opinion about something or a different view about something. His are very strong. He's very opinionated and he has a big voice. He has a lot to say.
Kim Kardashian has not publicly commented on the Blexit line.