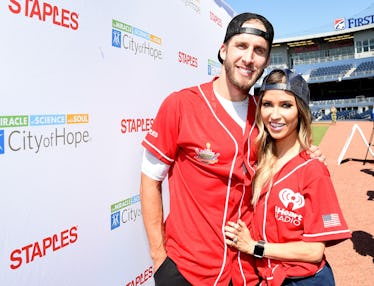 Kaitlyn Bristowe's Sweetest Quotes About Shawn Booth Put Those Breakup Rumors To Rest
Rick Diamond/Getty Images Entertainment/Getty Images
If most of your life is public knowledge, then there are bound to be rumors surrounding the intimate details. For the most part, being a reality TV star seems pretty fun, but there are definitely downsides. Take former Bachelorette Kaitlyn Bristowe. Recent breakup rumors have prompted Bachelor Nation fans to whisper about her relationship status with winner and fiancé, Shawn Booth. But worry not, because Kaitlyn Bristowe's quotes about Shawn Booth will remind you that the two are so in love. Those breakup rumors can just see themselves out the door, thank you very much.
Now, if you aren't all caught up on what's been going on between these two, then allow me to fill you in. Basically, Bristowe was the star of season 11 of The Bachelorette, back in 2015. She chose personal trainer Shawn Booth, they got engaged, and they lived happily ever after. The two live in Nashville with their adorable dog. And while they have no set plans for a wedding (at least, that they've publicly shared), they seem completely excited and totally in love.
But unfortunately, recent breakup rumors have been surrounding the happy couple — something Bristowe herself recently addressed. So, looking back at all they've been through, and everything they've said about each other, it's clear that these two are here for the long haul.