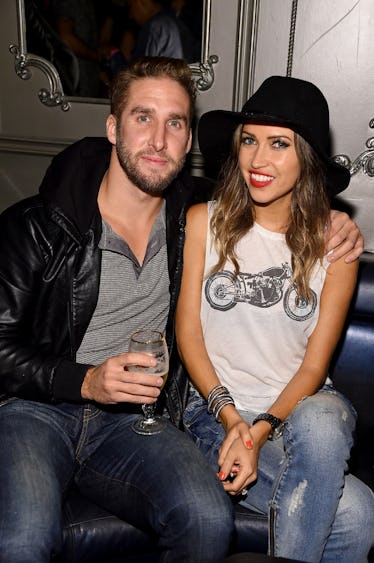 Kaitlyn Bristowe Finally Addressed Those Shawn Booth Breakup Rumors On Her Podcast
Gary Gershoff/Getty Images Entertainment/Getty Images
Kaitlyn Bristowe is letting the world know that just because she's been engaged for three years without tying the knot does not mean she and fiance Shawn Booth are calling it quits. Speculation has been swirling about the Bachelorette Season 11 leading lady and winner Shawn — the pair have been together since 2015, but they have yet to get married. Recent rumors led fans to wonder: Did Kaitlyn Bristowe & Shawn Booth break up? She's setting the record straight about their comittment to one another.
Kaitlyn took to her Off the Vine podcast on Thursday, Aug. 15 to clear things up about her relationship status, clarifying that she was spending time in her home country of Canada with her family for a portion of the summer and Shawn did not join her because he just bought a gym. She also noted that just because the busy couple are spending time away from one another and working through things does not warrant ending a relationship.
"You are both always away, you're exhausted at the end of the day, sometimes the relationship isn't being put first, but does that mean you call it quits?" Kaitlyn said.
"Shawn and I are 110 percent committed to each other and, yes, we are still together," she additionally confirmed.
Kaitlyn also revealed that she was taking some time to cleanse herself from social media and that dialing back on Instagram likes and not wearing her engagement ring isn't a sign of trouble. She explained:
I haven't been wearing my engagement ring and not even noticing myself people have pointed out that I apparently haven't been liking his photos on Instagram.
Shawn and Kaitlyn have been engaged since he popped the question in Season 11 of The Bachelorette. Kaityln, a fitness instructor from Vancouver who became a fan-favorite on Chris Soules' Bachelor installment, fell for the personal trainer and chose him over runner-up Nick Viall in a tense finale. The pair currently resides in Nashville and it seems they're not in any rush to walk down the aisle these days.
"We don't even know where we see ourselves next week," Kaitlyn told E! News in May. "We just hope we are healthy and happy. Maybe married. Maybe babies? OK I'll calm down."
They're also clearly aware of the very real hurdles that come with a relationship, but it sounds like they're willing to fight for whatever comes their way. Shawn divulged to ET in June, "We've obviously had a lot of bad times, but a lot of good times. We've just stayed humble through it all, put each other first and worked on our relationship. But it's not easy."
He also weighed in on their wedding plans (or lack thereof at the moment):
We're taking our time. People always say it's crazy we're not married yet after three years, and I'm always like, 'Well, what's the average time frame when somebody meets somebody, to getting married?' We've been engaged for three years, but we've also known each other for three years.
There you have it, folks. That's one Bachelor franchise couple you don't have to worry about.