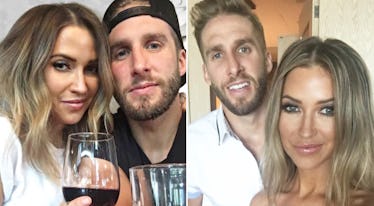 Kaitlyn Bristowe Reveals How Shawn Booth Empowers Her & It's Couple Goals — EXCLUSIVE
Kaitlyn Bristowe/Instagram
Kaitlyn Bristowe is more than just the coolest, baddest Bachelorette in history — she's a fashion guru, body positivity advocate, and host of Off The Vine. She's also currently partnered with Pandora to promote its new Shine collection, and it's absolutely gorgeous. According to Bristowe, the collection is all about inspiring "unique and powerful women to let their inner shine." Bristowe, who is the queen of confidence, never holds back from speaking her mind. She chatted with Elite Daily about what it means to be unique and true to yourself. Kaitlyn Bristowe also reveals how Shawn Booth empowers her, and TBH, it's couple goals AF.
Elite Daily caught up with Bristowe at the Gramercy Park Hotel in NYC on March 14, 2018, to learn more about Pandora's stunning collection. "It's really nice because, as you can tell with the pieces I'm wearing, you can stack rings," she says, pointing to the two rings on her middle finger. "I'm the kind of person who is random with jewelry." The collection features everything from earrings and rings, to necklaces and sterling silver charms plated in 18k gold.
Bristowe is the perfect person to promote a jewelry collection that focuses on being confident. The former reality TV star regularly takes to Instagram to share encouraging messages about body positivity and shows photos of herself with no makeup. "Just wanted to remind you today while scrolling, that you're beautiful, Instagram is a highlight reel, and we all have things to work on," she wrote in a post on Jan. 10. "But work on the inside this year, scroll less, love more, and the outside will fall into place." When asked about why she feels it's important to share these messages with fans, Bristowe says, "I think I found, even myself, as a 32-year-old woman, I was scrolling Instagram, scrolling Twitter, I'm on the internet, I'm seeing articles all the time... nobody is ever showing their authentic selves or baring their insecurities."
Bristowe explains a lot of why she shares empowering messages on social media is because she wishes she had a role model who would do the same when she was younger. "Growing up, I would have loved to see that from someone I was looking up to," she shares. "It would have helped me a lot with my own issues and own insecurities to know, hey, everyone has them, we're all struggling from something, we're all in this together, and we're all women in a really powerful time. Let's bond over it rather than pick each other apart." At the end of the day, Bristowe says "it's so important to be real with people," and to "have your own voice." Throughout her time on The Bachelorette, Bristowe received *unfair* criticism for how she portrays herself. (Which — ehem — is actually bad*ss and outspoken and confident and amazing.) But Bristowe has something to say to haters who try to hold you back: Do not apologize for being yourself. "I think you attract the right people and the right lifestyle and the right career and the right relationship — with friends, even — you attract the right people when you are who you are," she says. "If you're quiet and shy, by all means, be quiet and shy, if that's who you are. But I'm outspoken, I'm a big personality, I know what I want and I talk about it. The people who think that's wrong are just intimidated. That's how you get the right relationships out of life — if you're completely yourself."
Speaking of relationships, Bristowe is in the cutest relationship ever with her fiancé, Shawn Booth. The two fell in love on The Bachelorette and have been attached at the hip ever since. But what is it that really makes their relationship work? Well, the fact Bristowe and Booth can truly be themselves. "It's exhausting trying to be someone you're not and I think that's how I found a successful relationship," Bristowe explains. "He [Shawn] is like, 'Oh, wow. This is her.' I'll be so happy, I'll cry to him, I'll tell him my insecurities, I'll tell him what I'm confident about and I think it's so important. You'll get ahead in life whether it's your career or relationships, or relationships with yourself. You'll just get ahead if you are who you are." Bristowe continues with what attracted her the most to Booth and it will make you tear up. "I need someone who can empower me in a relationship," Bristowe says. "I'm a big personality, and you have to be able to handle it and keep up and have your own thing and have your own passions, and he [Shawn] does."
At the end of the day, Bristowe and Booth may be a power couple, but they have insecurities, too. "I'm still a human being, ya know?" Bristowe says. "But Shawn just embraces who I am. He is my biggest cheerleader ... He knows the power of a woman, and he respects it and he appreciates it." Amen.