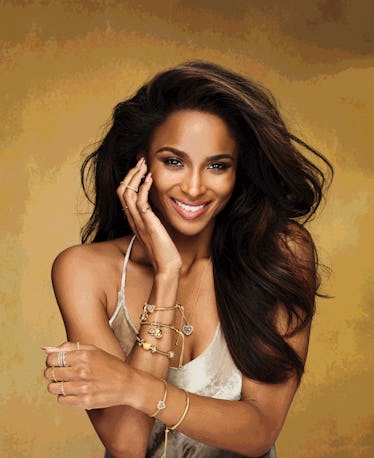 Ciara x Pandora Jewelry Is Here & You're Going To Want These Goodies — EXCLUSIVE
c/o Pandora
If you're in the market for some goodies to refresh your wardrobe, look no further. A new Ciara x Pandora Jewelry collection dropped on March 15, and it's actually cute AF. Even if you're not into the brand's signature charms, I guarantee there'll be something you like in the new line, which has a totally different look to it than anything I've ever seen Pandora release before. Plus, everything within it is Ciara-approved, so you know it's legit. I bet you want the goodies now, no?
Called Shine, the new collection will help you "sparkle like nature intended" thanks to an array of rings, necklaces, earrings, and yes, charms, that are all made from sterling silver and plated in 18k gold. Inspired by the sun's rays, natural elements, and — wait for it — honeybees, some pieces are studded with shimmery gems and many of them boast a honeycomb pattern. As explained in the collection's look book, the line really is the bee's knees:
The honeybee, a symbol of determination and power, is celebrated in the striking Bee Mine jewelry series in PANDORA Shine. Rich golden hues and deep blacks take flight with our bee motif, while intricate honeycomb textures embedded with sparkling stones will catch the eye of everyone around you.
Random? Slightly. Am I into it? Very.
And so is Ciara, who spoke with me about her personal style and treasured pieces. "My favorite thing from the collection is the honeycomb choker — I love to stack a few of them," says the singer, who has been a fan of Pandora for years. "It plays into my style, which I call tomboy chic. I'm very into the '90s tomboy look, so stacked chokers and minimal makeup work with it."
Along with said choker, the collection includes a new honeybee charm ("It's really cool and really fresh," says Ciara), an array of rings (one features tiny heart cutouts, another looks like a miniature crown), and delicate gold bracelets (the one that mixes silver and gold metals is my favorite). "I also love the classic heart charm — it's the first time they've done it in gold," adds Ciara.
It's actually kind of funny to me how into the new collection I am. As a teen, I remember passing by Pandora in my local mall but don't recall ever stopping in. Ciara, too, remembers trips to the mall when she was growing up, naming Rave, Rainbow, Abercrombie, and Macy's as some of her favorite stores. "I used to love going to the mall to do those cheap photos that you would take with your friends where they would have a glossy backdrop," she laughs. "I also loved going to the food court and just hanging and eating — it was a cool hangout spot." But now, thanks to this new release, I don't think I'll be sleeping on Pandora anymore.
While I was expecting the campaign for the collection to be fierce, I didn't expect it to leave me feeling as floored as it did, especially the video. In it, Ciara, dripping in gold, belts out the chorus to "This Little Light of Mine" while flashing her billion-kilowatt smile and busting out some dance moves that remind me why she was one of my favorite artists as a teen. The photos, too, ooze empowerment.
As described by Ciara, "Pandora is about inspiring women to be who we are and to shine bright and feel bright. As a mom and an artist and a woman working hard out here, I relate to that. I relate to everything the brand is about." Yes to all of that! I hope every single woman on earth can relate to reveling in her singularity and power.