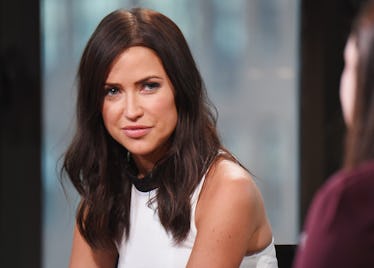 Former 'Bachelorette' Kaitlyn Reveals What She Thinks About Arie & She's Not Holding Back
Michael Loccisano/Getty Images Entertainment/Getty Images
I can't help but be a little less interested in The Bachelor results than I am in that of The Bachelorette. So many Bachelor relationships fizzle out soon after filming wraps, whereas the past three Bachelorettes are still engaged to their Final Rose picks and three others are married to the men they got engaged to on the show. It's safe to say that I'm confident in trusting the opinions of Bachelorette women, so the fact that former lead Kaitlyn Bristowe thinks Arie and Lauren should go to therapy is something that the new Bachelor couple should definitely take into consideration.
Speaking to Entertainment Tonight after that explosive finale, Kaitlyn offered her advice on how Arie Luyendyk and Lauren Burnham should maintain their relationship post-show.
They should not do any interviews. People are going to be talking about this for – well, how long has it been since Jason [Mesnick]? People still talk about that. I would say, just go to therapy. I think the show should actually give a therapist for the couples who come out of it, because it's so great. I'm, like, pro therapy.
Less than a week later, Bachelor Nation still isn't over Arie's Bachelor switcheroo from one of his final women to the other. Soon after proposing to new Bachelorette Becca Kufrin, Arie broke things off, pursuing runner-up Lauren and eventually proposing to her on the live "After the Final Rose" special. While Bachelor Jason Mesnick did a similar move on his 2009 season, Arie has received major flak for allowing cameras to film his complete breakup with a totally blindsided Becca.
Kaitlyn, who is engaged to her Bachelorette pick Shawn Booth, clarified to ET that she has attended couples' therapy with Shawn in the past. After watching Arie's season, she feels that being encouraged to share his feelings would be beneficial for him. Finally, someone said it!
He's already disrespected one, both [women], actually. Show some sort of empathy toward people, because I was mindblown by not a tear being shed by him. I'm sure that he felt really bad, obviously, [and] doesn't know how to really communicate those feelings. I think Arie probably didn't know how to handle [breaking up with Becca], because he was protecting his relationship with Lauren. So he's trying to make Lauren see how much he loves her, so he's saying all the wrong things... and then the producers are sitting back like, 'Yes!'
Seeing as Arie displayed more emotion saying goodbye to women like Bekah M. and Jacqueline than he did parting with Lauren at the first proposal stage, I think someone forcibly telling him to share his feelings would definitely be the kick he desperately needs.
Even as the Bachelorette, Kaitlyn was always vocal about the truth in situations and when she disagreed with something. Given that she accidentally spoiled her own season on Snapchat before the finale aired, she isn't always on great terms with ABC, but she and Shawn have obviously made their relationship a priority. In her talk with ET, Kaitlyn even addressed why Bachelorettes have the better track record when it comes to lasting franchise relationships:
I think it's a little bit of luck, and there's been a lot more Bachelors than there have been Bachelorettes... it might just be a weird coincidence [with] more Bachelorettes, because I think it's how bad you want that relationship to work that you'll get through anything if you really love the person.
Like many of us watching the show, Kaitlyn seemed totally over Arie's season once it wrapped, but she has yet to publicly comment on Becca as the Bachelorette. Other past Bachelorettes have celebrated Becca's addition to their little sorority or, in some cases, predicted it before the news was official.
Good Morning America even tweeted out a video of older Bachelorettes Trista Sutter, Andi Dorfman, and Ali Fedotowsky congratulating Becca on the new gig. However, I do wonder what GMA producer is on Corinne Olympios' hit list for her to be included in this.
Kaitlyn hasn't jumped in on the parade of praise yet, but I think, like all of us, she's ready for Becca to help erase any memory of Arie from our minds.