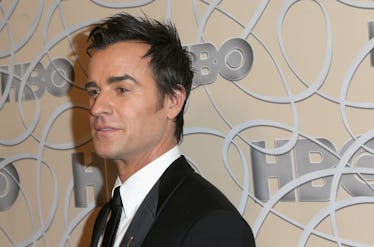 Justin Theroux's Net Worth Isn't As High As You Might Think
Frederick M. Brown/Getty Images Entertainment/Getty Images
They say Valentine's Day is the loneliest day of the year, but perhaps the day after proved to be worse, as fans learned that Jennifer Aniston and longtime beau Justin Theroux have split. The couple had been together for years before they finally tied the knot two years ago. Now, they've gone public with their separation and possible divorce the day after Feb. 14. Aniston is set for life from years on Friends and continuing residuals from syndication, but what about Justin? What is Justin Theroux's net worth? Will she be the one paying him alimony?
Aniston's net worth is estimated to be $200 million. Not only does she have all that money from Friends, but she's also the spokesperson for several brands, including those endless Aveeno commercials that are always on TV. She's also the one with the name, the brand, and the hairstyle we all once tried to emulate back in the 1990s.
Theroux is definitely the lesser satellite in the celebrity galaxy next to his maybe-soon-be ex-wife. Prior to their relationship, he was best known for the 2001 film Mulholland Drive, as well as 2006's lesser remembered Inland Empire. Mostly he did TV miniseries, and a lot of behind the scenes writing, such as the Ben Stiller comedy Tropic Thunder and Marvel's Iron Man 2.
When he started dating Jennifer Aniston in 2011, that was the first time most people had ever heard of him. It wasn't until after they had been engaged for two years that he finally landed a show that gave him name recognition in his own right, 2014's The Leftovers on HBO, where he played leading man Kevin Garvey, Jr. The show's been a critical darling since it arrived, with the final season receiving accolades from all sides and nominations, if not any actual awards won.
That means that Theroux's net worth has risen in the last few years, as his Q-rating has risen along with The Leftovers' visibility. The Richest currently pegs him as having $10.5 million, with Coed putting his value at $20 million overall when earning potential is taken into account.
Still, that's barely a tenth of what Aniston is valued at. She was definitely the leading breadwinner in their relationship. And that's why she's the one with the iron-clad prenup to keep her money where it belongs should this happen.
It's not a surprise that they signed one, but it is interesting how long it took to hammer it out. As I mentioned above, Aniston and Theroux got engaged in 2012, but in 2014, when The Leftovers hit, they still weren't married. They didn't get hitched until 2015. The reason for that? Reportedly, it was the prenup negotiations.
According to Life & Style:
Haggling over assets and money put a real damper on Jen and Justin's wedding planning for months. It really held things up. Friends even began to worry that the couple might not make it to the altar at all. And for good reason: A second source tells the mag the couple have canceled wedding plans three previous times since their August 2012 engagement!
More upsetting, Aniston reportedly didn't want to bother with all that, trusting Justin that when they said "I Do" it would be forever. It was reportedly her friends (and lawyers) who reminded her that it was in her interests to have one, since at the time she was worth $150 million.
So, all that paperwork protecting her assets is already in place. Money can't heal a broken heart, but it will make things a lot more comfortable. All the best to these two in this hard time.