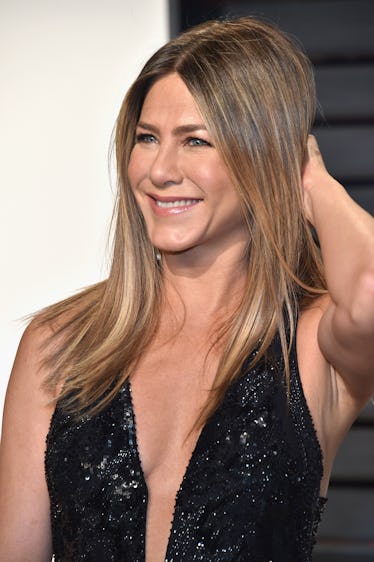 Jennifer Aniston's Net Worth Is Even Higher Than Justin Theroux's & It's Baller
Pascal Le Segretain/Getty Images Entertainment/Getty Images
When a relationship ends, most of us just want to wallow in our grief and not have to think about practical concerns, like splitting the bank accounts or the deposit on a new apartment. And thankfully, Jennifer Aniston won't have to. After reports that Jennifer Aniston is splitting from from husband Justin Theroux emerged on Feb. 15, it's unlikely the breakup is going to leave her hurting for cash. So what's Jennifer Aniston's net worth? Well, it's definitely higher than her (former) man's.
Aniston is worth a staggering $200 million, according to Forbes, which put her just barely short of making its list of the richest female entertainers in 2017 (sorry Jen, Oprah is ruining the curve). Aniston is one of Hollywood's highest paid actresses, and regularly rakes in seven figures for movies, per the site. However, it notes that while she's making a nice chunk of change from her acting, these days it's her endorsements — for companies like Emirates Airlines and Smartwater — and modeling that are really bringing home the bacon.
It puts her leaps and bounds ahead of her soon-to-be ex, Theroux. The actor and screenwriter is only worth about $20 million, which is about $20 million more than I have, so I'm going to say that it's still a very respectable sum.
So basically, neither one of them is going to be scrounging for cash to find a new apartment, now that they're reported to be splitting.
On Feb. 15, the couple announced that they were separating in a statement shared with the Associated Press via Aniston's publicist. In the statement, they announced that the choice was mutual, and that the move was "lovingly made at the end of last year." The statement continued,
Normally we would do this privately, but given that the gossip industry cannot resist an opportunity to speculate and invent, we wanted to convey the truth directly. Whatever else is printed about us that is not directly from us, is someone else's fictional narrative. Above all, we are determined to maintain the deep respect and love that we have for one another.
Elite Daily reached out to representatives of both Aniston and Theroux, but did not hear back by the time of publication.
Every breakup sucks, but at least it looks like the two are doing it in the best way possible — reaffirming their support for each other while they decide to just, not be together.
And money seems unlikely to become an issue in the split, too.
Aniston and Theroux have only been married about two years, but the relationship has lasted much longer. The pair started dating in 2011, but didn't get married until 2015, partly thanks to a very, very long engagement — about three years, in fact. The long engagement was reportedly due to the delicate negotiations over a prenuptial agreement, according to a Life & Style report that was published during their engagement. Haggling over the prenup set the wedding back by a few years, and according to the report, really put a damper on the couple's relationship. However, if I had $200 million, you can absolutely be sure I'd be protecting it, romance be damned, so I definitely can't fault Aniston on that.
And now that the couple is reportedly splitting, I hope having worked out the nasty financial details in advance is allowing the two some ease and lightening the stress. Because no matter how amicable, a breakup is never a pleasant experience.
Good luck to both Aniston and Theroux on navigating the difficult and sad experience of deciding to go your separate ways.