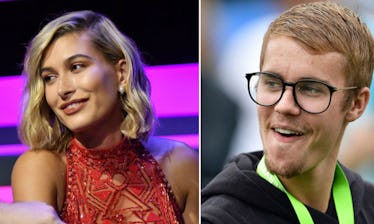 Justin Bieber's Instagram Of Him Kissing Hailey Baldwin Is Engagement Goals
MIKE COPPOLA/GETTY IMAGES FOR TRIBECA FILM FESTIVAL/ STUART FRANKLIN/GETTY IMAGES
If you need extra proof that engaged life looks good on Justin Bieber and Hailey Baldwin, just head on over to Instagram. Since announcing that they are planning to make their everlasting love official, the couple has been dedicating the most heart melting posts to each other on the social media platform. Case in point: Justin Bieber's Instagram of him kissing Hailey Baldwin is engagement goals, and I'm here for the Biebs' most PDA-filled post yet.
Everyone who's been following along the whirlwind Bieber-Baldwin saga knows that the pair is currently living their best lives in Miami. On Friday, July 13, Bieber's latest Instagram post made me beliebe (sorry) once again that they're in the midst of newlywed-to-be bliss. The photo, which was shared to his profile late that evening, shows Jailey in the midst of a passionate semi-naked make out session in the pool, and this is all the proof I needed to see that they're head-over-heels for each other. Seriously, they look so in love, and it'll make even the biggest romantic cynic swoon. The "What Do You Mean?" singer shared the photo sans caption, because in this case, a picture is definitely worth a thousand words.
It turns out that the PDA-heavy snap could have a special back story. Per People, fans are speculating that the image was taken during the pair's romantic getaway to the Bahamas, which is where the Biebs reportedly asked for Baldwin's hand in marriage on July 7, per Us Weekly. People notes that the "captionless post appeared to be a picture of a picture," and it's entirely possible. It's definitely a recent image, because Bieber isn't sporting any facial hair. Unfortunately, Bieber didn't leave us any hints in the caption, but something tells me that he and his bride-to-be definitely have some footage from that special moment. Either way, this photo is cute AF.
TBH, Bieber's loved-up shot kind of overshadowed another monumental moment. On Friday, the model finaly shared her first post-engagement 'Gram of the two, which shows them modeling their respective outfits just steps away from a private jet. While the image was shared sans caption and with the comments turned off, fans were still pretty excited that the 21-year-old had finally broken her Instagram silence on her highly-publicized relationship. Plus, how cute are those matching "his and her" watches?
Considering that the pair has previously been so private about their relationship on social media, their recent posts speak volumes about their engaged life. Aside from a single tweet, Baldwin has been mum on their engagement until she made things Instagram official on Friday. On Bieber's side, he had shared zero photos of the pair together since they rekindled things just months ago. Eagle-eyed fans noticed that he didn't even follow his girlfriend on Instagram. He follows fewer than 100 accounts, but still. However, he more than made up for it with his first post-engagement homage to Baldwin. I don't think I was alone in tearing up when I read the saccharine message, which called Baldwin the "love of his life."
While there's no wedding date set yet (that we know about, at least), things are definitely heating up if Instagram is anything to go by. Sorry Jelena fans, it looks like it's definitely time to get on board. Plus, the "Sorry" hitmaker appeared to have a change of heart and finally started following his lady love on Instagram. Ah, young love.
Unfortunately People reports that the lovebirds are planning a small intimate ceremony, and I'm losing hope that I'll be scoring a highly-coveted invite in the mail. The good news? Knowing these two, we'll probably get all the details and a tear-jerking romantic tribute on Instagram after the wedding.