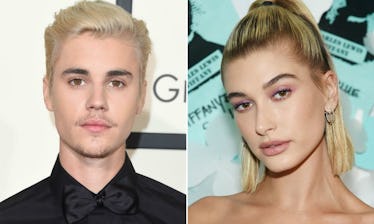 Justin Bieber & Hailey Baldwin Confirmed Their Engagement & Now Fans Have One LOL Question
JASON MERRITT/GETTY IMAGES ENTERTAINMENT/GETTY IMAGES; JAMIE MCCARTHY/GETTY IMAGES ENTERTAINMENT/GETTY IMAGES
Justin Bieber and Hailey Baldwin have finally confirmed their engagement! But there's one thing that's keeping fans from truly believing the news: social media. Instagram, in particular. While the two young stars have been expressing their mutual affection for the paparazzi, they haven't exactly found the time to follow each other on Instagram. Well, Bieber hasn't found the time. So, does Justin Bieber follow Hailey Baldwin on Instagram? Nope! And fans have lots to say about it on social media.
While the rumor mill has been going into overdrive ever since news of Bieber and Baldwin's engagement broke on July 8, fans have been putting their noggins to work to make the relationship seem less serious than it is. And that, of course, means conspiracy theories are surfacing left and right.
I'm not entirely sure why fans are spending their free time doing this, but seeing what they come up with is genuinely hilarious.
The conspiracy theory of the hour is that Bieber and Baldwin's relationship can't be that serious because they don't even follow each other on Instagram. Yeah, they're grasping at straws, but it makes for some great tweets.
For example, this person finds it pretty humorous Bieber doesn't follow his gal on Insta:
And there's plenty more where that came from:
What makes this so funny is that Bieber confirmed his engagement to Baldwin in an Instagram post. He waxed poetic about his love for Baldwin and his hopes for their future together.
Here's what he had to say:
Was gonna wait a while to say anything but word travels fast, listen plain and simple Hailey I am soooo in love with everything about you! So committed to spending my life getting to know every single part of you loving you patiently and kindLY.
That sounds like your typical lovey-dovey post, right? Wrong. It gets super intense after that (but it's still sweet!):
I promise to lead our family with honor and integrity letting Jesus through his Holy Spirit guide us in everything we do and every decision we make. My heart is COMPLETELY and FULLY YOURS and I will ALWAYS put you first! You are the love of my life Hailey Baldwin and I wouldn't want to spend it with anybody else. You make me so much better and we compliment eachother so well!!
Wow, Bieber's really serious about this, which I think comes as a surprise to people since the world only gets to see Bieber the singer and not Bieber the person.
Anyway, he had a lot more to say and he even mentioned being a role model for his younger siblings:
Can't wait for the best season of life yet!. It's funny because now with you everything seems to make sense! The thing I am most excited for is that my little brother and sister get to see another healthy stable marriage and look for the same!!!
And then he added a spiritual element to the whole thing (he and Baldwin attend the same church, by the way):
Gods timing really is literally perfect, we got engaged on the seventh day of the seventh month, the number seven is the number of spiritual perfection, it's true GOOGLE IT! Isn't that nuts? By the way I didn't plan that, anyways My goodness does feel good to have our future secured! WERE GONNA VE BETTER AT 70 BABY HERE WE GO! 'He who finds a wife finds a good thing and obtains FAVOR from the Lord!' This is the year of favor!!!
It sure sounds like they're doing this for real, whether Bieber follows Baldwin on Instagram or not.